'The 124 Spider could be the car to reignite Fiat's fortunes'
It's a smart move to look at yesteryear for inspiration, says Steve Fowler
Fiat knows all too well how to play the retro card – without the 500, it's possible the company might not be here today. So it's a smart move to look to yesteryear for inspiration when it comes to the launch of a new roadster.
The original Fiat 124 Spider was a massive hit in the sixties, especially in the US, which accounted for around 75 per cent of sales. The new model certainly got plenty of attention at the LA Motor Show, drawing one of the biggest crowds of press day (only beaten by the gathered throng jostling to hear VW's US boss apologise yet again).
Fiat's senior product manager, Piergiorgio Di Miscio, told me: "The new car is inspired by the original, but it perfectly embodies our brand DNA today. It gives us a different brand image and will get people visiting dealerships to buy our cars."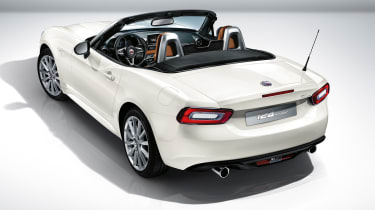 He's hoping the Spider's 'halo' properties will help Fiat shift cars like the 500X, which by all accounts isn't selling as well as it was hoped. I'm surprised by that – I reckon it's the best of Fiat's 500 family by some margin.
I've also heard rumours from within Fiat that projects like the Panda Qashqai rival, revealed by Auto Express, haven't been killed and could soon be revived. That'd be great news.
The only problem is Fiat is pinning plenty of hopes on the 124 Spider, a car that – how can I put it – just doesn't look sexy enough in the flesh.
Fiat people in LA had clearly been told not to mention the Mazda MX-5, the car the Spider is based upon. But reading between the lines, the Fiat may well be better to drive, even if it doesn't look better than the Mazda. Either way, the 124 Spider is a step in the right direction that will hopefully soon see Fiat back to its brilliant best.
What do you think of the Fiat 124 Spider? Leave us a comment below!