Chevrolet celebrates 50 years of the Camaro
50th Anniversary Chevrolet Camaro adds extra style to commemorate half a century of American muscle
Chevrolet pulled out of the UK last year, but still remains successful in the US – and one of its most iconic vehicles has to be the Camaro sports car. First released in 1966, it's now marking 50 years on the road with a special edition '50th anniversary' package, available on Camaro coupes and cabriolets from the summer.
The Chevrolet Camaro 50th Anniversary package is pretty discreet for an American muscle car. It includes Nightfall Grey Metallic to accentuate the sharp lines of the sixth-generation Camaro. The dark colour is complemented with satin chrome on the front splitter, grille and twenty-inch wheels, and orange detailing appears on the bonnet and brake calipers.
All these models will also wear a 'Fifty' badge, to further remind bystanders that you're driving around in a model whose lineage dates back to 1966.
On the inside, the tweaks are equally subtle, with black leather, suede inserts and orange stitching. The 'Fifty' badge is spread around liberally though, appearing on the steering wheel, seats, instrumentation, and sills.
The 50th anniversary Camaro will go on sale this summer, and pricing hasn't been announced. While you're waiting though, have a look through a brief history of the Camaro below. 
Chevrolet Camaro: a history
1966 Chevrolet Camaro Sport Coupe
Concerned with the massive success of the Ford Mustang, General Motors decided to create its very own 'Pony car' to replace the unsuccessful Corvair. The Camaro was born, based on a new rear-wheel-drive platform named the 'F-body'. Available with straight-six or V8 power, it never hit the same heights as the Mustang, but in its three years on sale, became an icon in its own right.
1970 Camaro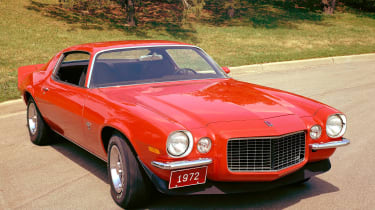 Still based on the F-body platform, the second-generation Camaro had a new look, and was longer, lower and wider than the outgoing car. The success of the previous model meant GM devoted more time and money to developing this generation of Camaro. Yet tightening safety and emissions controls throttled the sporty nature of this car and, as the 70's progressed, it lost power thanks to catalytic converters and gained ugly, protruding bumpers front and rear.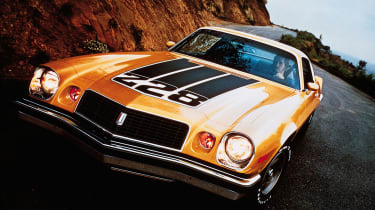 GM persevered with this car until 1981, by which time the power output had dropped to a measly 175bhp from the 5.0-litre V8 engine.
1981 Camaro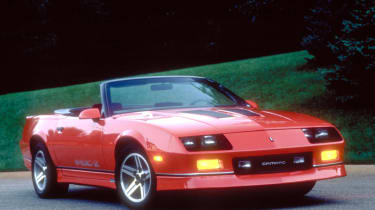 The eighties bought sharp-edged boxy styling but not a platform change, and this car was still hampered by the live rear axle set-up that made it a handful in the corners. It was still held back by US emissions regulations too, and the base model V8 only mustered 165bhp from the 5.0-litre engine. This was the first Camaro to come with a power-sapping three-speed automatic gearbox too – though a four-speed manual was available. Speed freaks had to wait until 1987, when a 5.7-litre engine was introduced with up to 225bhp.
1992 Camaro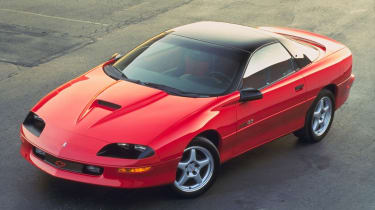 Lasting for another ten years, this car ditched the straight-edged looks of the previous model for smooth curves. It also ditched the gutless base powerplants – the smallest V6 produced 160bhp, but higher-capacity V8's made up to 275bhp, giving great pace – 0-60mph in under six seconds.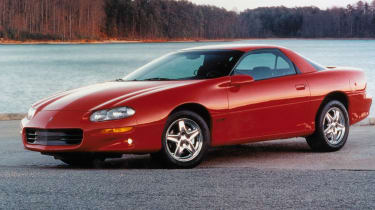 By 2001, the car had matured somewhat with a mild facelift and a power upgrade to 325bhp. It was dropped in 2002 though, due to slumping sales and lack of space to produce it.
2009 Camaro
After a seven-year hiatus, the Camaro returned in style – helped by an appearance as Bumblebee in the Transformers movie. Gone were the lethargic powerplants of old Camaros – this car used a 6.0-litre V8 to push out 400 horsepower, and even base model V6's had over 300bhp.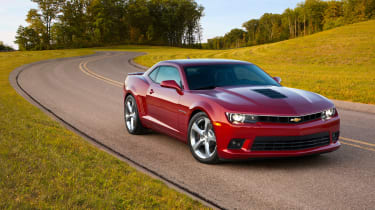 This Camaro also debuted fully independent rear suspension – something the Ford Mustang didn't get until 2015.
Which is your favourite Camaro? Let us know in the comments below...