'Dash cams play a big role in making life safer and fairer'
After his daughter had a low-speed prang, Steve Fowler recommends getting a dash cam fitted to your car for peace of mind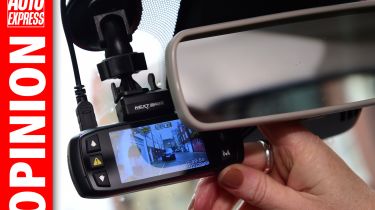 Insurance companies, they don't always get the best press, but until recently I'd given them the benefit of the doubt. Until I had to deal with a claim for my daughter – a 17-year-old learner driver.
Without going into detail, she had a low-speed prang – hit by a guy in an already-battered 1999 Ford Mondeo. She was in heavy traffic crawling around a roundabout, while he chose to queue jump, tried to cut across in front of her and dented her pride and joy, and her confidence.
What has followed is months of wrangling. In spite of the evidence, the other party has claimed against her and put in a claim for personal injury that even my daughter's insurer doesn't believe.
• In-car camera reviews: dash cam test 2016
Perhaps most shocking of all is that the insurer has encouraged her to accept liability on the basis of it being 'an accident on a roundabout with a learner driver, so a judge is unlikely to find in your favour'.
Never mind what is right and wrong; this insurer, like many I suspect, is aiming for the path of least resistance and the path of least cost. All while an innocent and blame-free young driver has an expensive blemish on her insurance history – she'll be waving goodbye to any no-claims discount.
• New tech to wipe £14bn off insurance premiums
If we have one regret over all this (other than the insurance company we chose), it's that we didn't have a dash cam fitted to my daughter's car. If we did there would be no argument, no extended wrangling and no chance for some, let's just call him an "opportunist", to get a cheque for a sum likely to be in excess of £2,000 for an injury that didn't require any form of medical treatment.
Dash cams are one of the fastest-selling gadgets right now, and rightly so. Soon many cars will have them built in – as with the new Citroen C3. We now have a dash cam and I'd advise anyone else to follow suit.