"The drive from the UK to the Paris Motor Show is a relaxed stroll"
Mike Rutherford wonders why more Brits are not crossing the Channel to visit the 2016 Paris Motor Show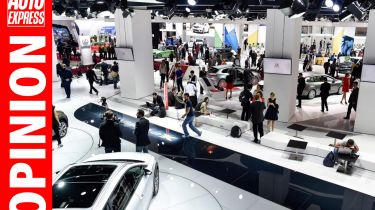 We Brits are a curious bunch. We think nothing of visiting our nearest Continental neighbour to watch grown men drive around in circles at Le Mans, chase balls in the Stade de France, or swing rackets on the courts of Roland Garros. Yet we seem reluctant to take the far better value and more attractive trip to the Paris Motor Show.
The drive to the 1-16 October Mondial de l'Automobile is a largely relaxed 250-mile, circa five-hour stroll from London. True, there is the Channel bit to contend with, but with P&O currently offering car and two-occupant 24-hour trips from £27 return (with a case of wine thrown in!), three-day return crossings from £64, plus longer break options for a tad more, getting a car plus driver and passenger on a Dover-Calais-Dover trip has never been cheaper.
• 2016 Paris Motor Show preview
Bung 1 Place de la Porte de Versailles, 75015 Paris into your sat-nav and you'll be delivered to the doors of the exhibition. The French city's chaotic morning and evening rush hours are to be avoided, if possible. But parking is plentiful and reasonably priced. Hotels in the vicinity can be stupidly costly, so consider a base camp 30 minutes outside Paris in a suburb like St-Witz which has hotels and eateries suiting every pocket. You'll then have the option of commuting to the show via public transport, or via the Bla Bla Car ride-sharing service.
An exhibition that couldn't be more different to the Paris shindig is the London Motor Show, now the number one motoring event in England and confirmed for the leafy, calming, beautiful Battersea Park from 5-7 May 2017. More space for more manufacturers and at least 100 additional cars will be in evidence next year at the Thames-side venue, just across the water from Chelsea.
• "London needs and deserves its own motor show - now it's got one"
With advanced tickets already available at £15 (which includes access for an adult and up to two under 11s), LMS will again be an affordable occasion for families who'll also enjoy additional side attractions. Car nuts looking to spend more are being invited to join The London Motor Show Club (great idea; why didn't someone think of it earlier?). Member benefits include VIP rear-of-house car collection tours, the possibility of dining with motoring and motorsport celebs, and much more.
If you only manage to hit two car exhibitions between now and next spring, head for Paris and London. Both are unmissable.
Are you visiting the Paris Motor Show? Let us know in the comments section below...