Paris Motor Show 2016: news round-up and show report
All the cars, news, pictures and video from the 2016 Paris Motor Show is right here…
The 2016 Paris Motor Show has delivered its bumper load of new cars and Auto Express was your guide through the excitement of the two press days. The covers are now off all of the key production car launches and the incredible concept cars that made Paris 2016 one of the most exciting car shows in recent memory.
• Best cars at the 2016 Paris Motor Show
If you missed any of the Auto Express Paris Motor Show coverage fear not, because you'll find all the words, pictures and videos below. We pick out the best cars of the show, take you through an A-to-Z of every car brand's activities and recount the biggest breaking news stories that we gleaned from the top executives in the global car industry.
Scroll down the page for the full story on the 2016 Paris Motor Show…
Paris Motor Show gallery:
Check out the best pictures and video from the show here...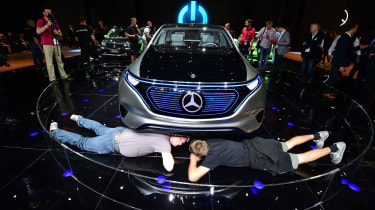 2016 Paris Motor Show: the key cars
Audi Q5 - New version of Audi's premium SUV.BMW X2 - Concept version of BMW's sharp coupe-SUV.Citroen C3 - A new and more stylish version of Citroen's supermini.Honda Civic - The next generation Honda Civic looks to recapture hearts and minds with a sharp new look.Hyundai i30 - Hyundai's latest Focus rival gets a host of new tech and a new family face.Land Rover Discovery - Land Rover's tough SUV is reborn.Nissan Micra - The all-new Micra supermini is aiming to get back on track.Peugeot 3008 - Peugeot's 3008 gets a more rugged look and new tech.Skoda Kodiaq - This big Skoda SUV will sit above the popular Yeti.Renault Trezor - Stunning Renault concept reveals new design themes.Volkswagen I.D. - New compact electric concept car from VW.Ferrari LaFerrari Aperta - The LaFerrari hypercar without its roof.Mercedes Generation EQ - Mercedes launches its electric car sub-brand with an SUV concept.
Paris Motor Show: top news stories
• Mercedes-AMG hybrid hypercar to get F1 engine• SEAT Arona name confirmed for Juke rival• All-new Land Rover Defender is rumbling closer to 2018 launch• Baby Jeep Renegade Juke rival is a possibility• New BMW M5: super saloon to launch in 2017 with all-wheel drive • Hot new Skoda Kodiaq vRS still on the table• Nissan Micra warm hatchback planned • New Vauxhall Meriva due in 2017• New 2017 Hyundai i30N hot hatch to come in two guises• Alfa Romeo to launch large SUV after Stelvio arrives in 2017• New Kia Optima GT could be UK bound
Paris Motor Show 2016: manufacturer A to Z
Audi
The new Audi Q5 mid-size SUV has made its debut at the Paris show, and takes design cues and tech from the larger Q7. It's the last of Audi's SUV range to get a comprehensive update. Audi is also showing the RS3 saloon, a compact performance 4-door with nearly 400bhp.
Following on from the A5 coupe revealed a few months ago, the five-door A5 Sportback and S5 Sportback variants are on show in Paris. Complete with the interior of the new A4, the A5 Sportback features a shaplier design compared to its saloon stablemate. Also on show will be other recently launched cars like the TT RS and R8 Spyder.
BMW
• BMW X2• New BMW M5: super saloon to launch in 2017 with all-wheel drive
We've seen it in disguise and in our exclusive images, but now BMW has used Paris to debut a near-production concept version of its new BMW X2. As the name suggests, it'll sit between the X1 and X3, aiming to offer a sporty, coupe-like profile and sharp drive. We won't see the finished product until 2017, however, with the production version due in 2018.
Citroen
Paris is not only the home of the motor show, but also of French manufacturer Citroen, so it took the opportunity to reveal the all-new C3 supermini at the show, featuring a C4 Cactus inspired redesign, a raft of new tech and an all-new platform. Also on show is the new Citroen C3 WRC car and PSA is launching its new Free2Move mobility sub-brand at the show.
Also making its public debut is the Citroen CXPERIENCE. Pronounced 'c-experience', the large plug-in hybrid saloon concept is designed to show off the future of Citroen's car design. Citroen stresses that it isn't meant to preview the next C5 or C6 saloon.
Dacia
• Dacia Sandero, Stepway and Logan MCV updates• Dacia Duster gets new dual-clutch gearbox
Dacia has introduced a trio of facelifted models at the Paris Motor Show. Updated versions of the Sandero, Sandero Stepway and Logan MCV estate all join the range, and come with a new 1.0-litre engine. The Renault-sourced unit is tuned to deliver 74bhp and is claimed to improve fuel efficiency by 10 per cent. It replaces the outgoing 1.2 petrol.
All three models benefit from a similar raft of updates to the 2016 Duster, including a revised headlight design with LED running lights on top models. The front grille, bumper and lower air vents are also redesigned on all three cars to bring them in line with the SUV, while the rear lights have also been tweaked. Meanwhile, the Duster itself has gained a DCT dual-clutch gearbox.
Ferrari
• Ferrari LaFerrari Aperta• Ferrari GTC4 Lusso T• Ferrari celebrates 70th anniversary with 70 iconic paintjobs
Ferrari announced that 150 examples of the LaFerrari Aperta would be produced, and it was sold out before it was unveiled in Paris.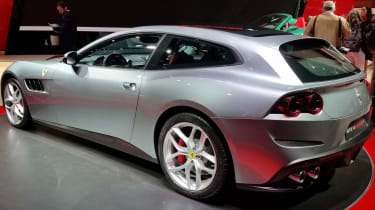 The new GTC4 Lusso T has also debuted at the Paris Motor Show, featuring a 3.9-litre turbocharged V8 engine. The new entry-level version of Ferrari's four-seater is rear rather than four-wheel drive, although it retains the advanced rear-wheel-steering system.
Honda
• New Honda Civic• New Honda Civic Type R• New 1.0-litre turbo engine for Honda Jazz
The new, 10th generation Civic has appeared at the 2016 Paris Motor Show, and it's a crucial car for the Japanese brand. The new Civic is bigger and sportier than its predecessor, with a new exterior design based heavily on the Civic Concept seen at the 2016 Geneva show, improved driving experience and the latest tech. Two new engines will be available; turbocharged 1.0 and 1.5 VTEC petrol motors, while diesel and hybrid models will follow.
Jeep didn't show us its new Compass SUV in Paris but its executives did reveal new information about future product plans. The Jeep Grand Wagoneer luxury SUV has been talked about for a while but we were told in Paris that plans are afoot that would see it sell for as much as £100k in the UK, making it a genuine rival for the Range Rover. We also got new details on a plan for a smaller SUV to sit under the Renegade and rival the Nissan Juke.
Kia
• Kia Rio• Kia Soul and Carens updated• New Kia Optima GT could be UK bound, with 280bhp!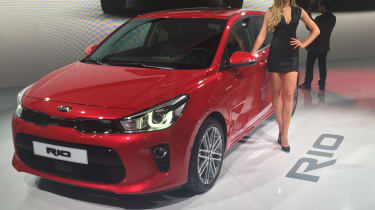 The all-new Kia Rio is a Ford Fiesta rival, and it has been given a thorough revamp. It's longer, lower and wider than its predecessor and features a much more aggressive-looking design, a new platform and interior improvements like a new floating touchscreen and cleaner dashboard.
Kia has also introduced a turbocharged version of the Soul crossover with 201bhp and made some tweaks to the Carens MPV. The Carens gained styling revisions and extra equipment.
Land Rover
• Land Rover Discovery• All-new Land Rover Defender is rumbling closer to 2018 launch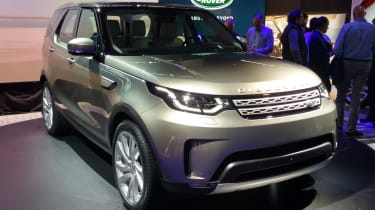 A star-studded launch ceremony saw Bear Grylls, Sir Ben Ainslie and Zara Phillips introduce the all-new Discovery, set to a backdrop of the world's largest bridge made of Lego. The new Discovery abandons the blocky design of the old model in favour of a more sleek design inspired by the Discovery Sport. The new Discovery will roll into dealerships in early 2017 priced from around £45,000.
Lexus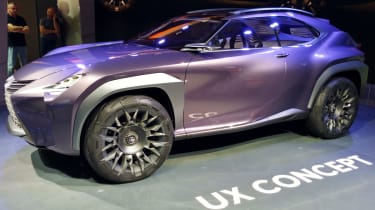 Lexus revealed its UX concept at Paris - its most striking concept car yet. Little else is known about the concept as, other than the fact that it has dimensions similar to the Audi Q2 and that "the interior combines traditional craftsmanship with high-tech manufacturing techniques."
Lexus also bringing something that's not a car, in the form of its spider silk-woven Kinetic Seat concept. Lexus thinks this is the future of car seating, as it is more flexible to various body shapes.
Mercedes
• Mercedes Generation EQ• Mercedes-AMG GT C Roadster• Mercedes-AMG hybrid hypercar to get F1 engine• Mercedes E-Class All-Terrain• Mercedes-AMG GLC 43 Coupe• Mercedes EQ electric car brand to launch 10 EVs by 2025• Mercedes-Maybach 6 concept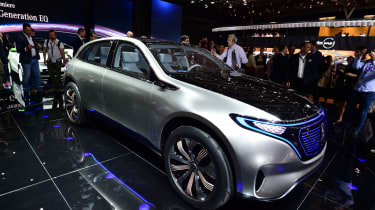 Mercedes is taking the next step towards electric power with the launch of the new Generation EQ concept. The new model is an SUV coupe with a radical look, but it's what's under the skin that's arguably more interesting. The Generation EQ uses a new scalable platform that Mercedes will use to underpin a new generation of wide-ranging electric Mercedes models.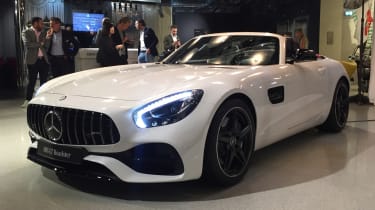 Mercedes has also revealed its new Mercedes-AMG GT Roadster and faster AMG GT C Roadster in Paris. The latter 'C' car has 549bhp and 680Nm, and launches from 0-62mph in 3.7 seconds - 0.1 seconds faster than the AMG GT S coupe. The two roadsters car take heavy design influence from the hardcore AMG GT R, too. In other Mercedes-AMG news, the brand confirmed it's set to build a hypercar with an F1 engine to rival the McLaren P1.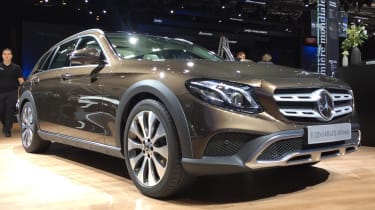 After revealing Merc's plans earlier this year for a chunkier E-Class Estate, the brand announced that its new E-Class All-Terrain will be making its way to Paris. The new off-road estate debuted at the show, and takes on the Audi A6 Allroad and recently-revealed Volvo V90 Cross Country. It features a raised ride height, a chunkier body kit and an 'All-Terrain' off-road mode.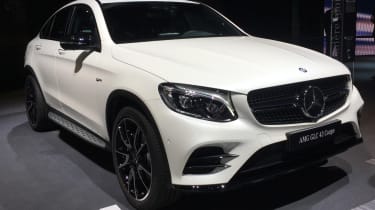 Mercedes' latest performance SUV has also made a showing. The new GLC 43 Coupe has the same 362bhp 3.0-litre twin-turbo V6 as the rest of the AMG '43' cars we've already seen, and can do 0-62mph in 4.9 seconds. AMG detailing like bespoke alloy wheels, a subtle bodykit and flashes of carbon and red inside mark it out from the rest of the range.
MINI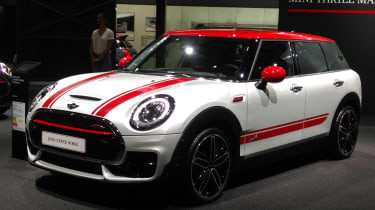 MINI's new John Cooper Works Clubman has been revealed at Paris. It's the latest MINI to get the JCW treatment and comes with a 228bhp 2.0-litre turbo petrol and four-wheel drive. Other areas of JCW influence include beefier Brembo brakes, a chunky body kit and sports seats.
Mitsubishi
• Mitsubishi GT-PHEV• Mitsubishi Outlander PHEV• Mitsubishi ASX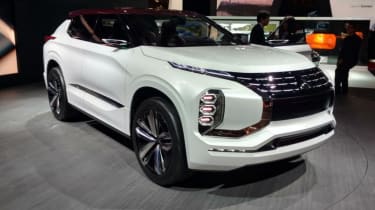 The main focus from Mitsubishi at Paris is a new mid-sized hybrid SUV. The concept is named the Ground Tourer PHEV Concept or GT-PHEV, and is meant to fit in between the ASX and the Outlander, with a design similar in style to the Range Rover Evoque. Mitsubishi also revealed a facelifted version of the ASX and some revisions to the Outlander PHEV.
Nissan
• Nissan Micra• Nissan Micra warm hatchback planned
Nissan is having another stab at the supermini segment with the long-awaited new Micra. It's a crucial car for Nissan, not least because it's the first time an all-new Nissan Micra on a fresh platform has been launched since 2003. It's been designed to tackle the Ford Fiesta head-on, and brand CEO Carlos Ghosn says the new car will "raise expectations" of what a supermini is capable of. We also learned that a sporty version of the Micra is in the works, but there are no plans yet for a hot NISMO version.
Peugeot
• Peugeot 3008• Peugeot 5008• Peugeot 3008 DKR• Peugeot Free2Move sub-brand launched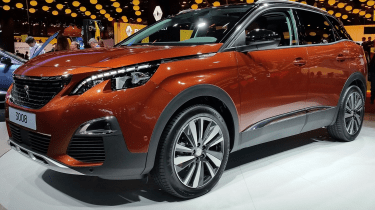 The new Peugeot 3008 has made its public debut after a reveal event earlier in the year. Rivalling the Nissan Qashqai and Kia Sportage, the highly anticipated mid-size SUV gets sleek looks, a brand new engine range and a new 'i-Cockpit' dashboard design along with a new GT version. Furthermore, a plug-in hybrid will be on its way in 2019. Peugeot is also launching the Free2Move mobility sub-brand at the show.
The 3008 isn't the only car getting an SUV facelift. The new seven-seat 5008 has been reshaped from a frumpy people carrier into a sharp SUV. Like the 3008, the larger 5008 will feature the new 'i-Cockpit' interior design and will rival the new Renault Grand Scenic.
After its first ever Dakar rally win earlier this year with the 2008 DKR, Peugeot is hoping this new 3008-inspired model can bring them glory in the 2017 rally. Packing in a mid-mounted 3.0-litre V6 diesel engine, it's capable of taking even the most challenging sand dunes in its stride.
Porsche
• Porsche Panamera E-Hybrid• V8-engined Porsche Panamera S E-Hybrid planned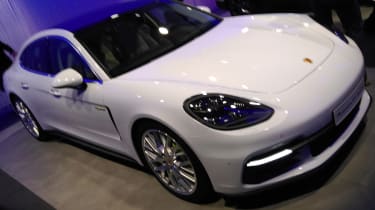 The all-new Panamera has technically already been launched - so much so that we've driven it in Turbo and 4S diesel guise - but it's at the Paris Motor Show for a full public debut. Resembling a stretched 911 a little more than the previous generation, the new Panamera is also more practical in terms of boot space and a new 'Sport Turismo' shooting brake-style model could boost that further in 2017. Paris is also where the Panamera 4 E-Hybrid is making its first public appearance, and we've learned that a V8 hybrid version of the Panamera is also planned.
Renault
• Renault Trezor Concept• Renault Alaskan• Renault Zoe facelift• Renault Koleos
The Renault Trezor concept is one of the most striking cars at the show, and it might have some significance for future Renault production cars. The Trezor represents the latest chapter in the company's design story under design boss Laurens van den Acker, and we'll see elements of the design filtering through to the production car range.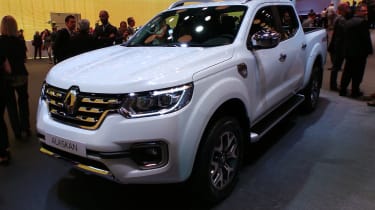 Home market star Renault has debuted the new Alaskan pick-up at Paris. The Alaskan is based on Nissan's Navara with a similar switchable four-wheel-drive system. Taking a 187bhp diesel engine from Renault's van range, the Alaskan is estimated to go on sale late this year carrying a £22,000 price tag. The facelifted Clio is also on display as well as the all-new Koleos SUV. In addition, the 2017 Renault Zoe is at the show with an improved 248-mile range .
SEAT
• SEAT Ateca X-Perience• SEAT Arona• SEAT X-Perience brand to expand across the range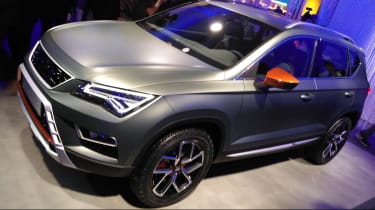 We're big fans of the SEAT Ateca, but it's not exactly rugged - which is where the Ateca X-Perience could step in. It's just a concept for now, but SEAT bosses are using the Paris show to gauge public reaction to the beefed-up crossover, and decide if it's worth pursuing to production.
Skoda
• Skoda Kodiaq• Hot new Skoda Kodiaq vRS still on the table
Like a few cars on this list, we've already seen the Skoda Kodiaq in all its glory before the Paris show, but this is its public debut. The new five- or seven-seat SUV will take on the likes of the Land Rover Discovery Sport and Kia Sorento when it goes on sale in 2017.
Smart
• Smart ForTwo and ForFour Electric Drive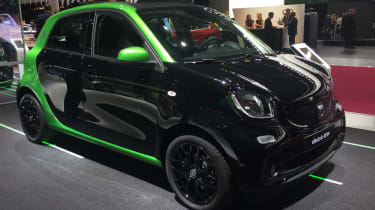 The recent release of new Smart models has now been followed up by the unveiling of fully electric versions of both the ForTwo and ForFour. Both cars will appear in showrooms early in 2017 and the electric ForTwo will be available in convertible form as well. The cars debuted at the Paris Motor Show, along with the world debut of the Brabus enhanced ForTwo that goes on sale soon after the show.
SsangYong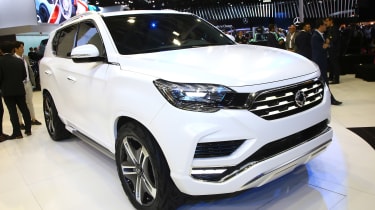 A new SsangYong Rexton is previewed at the Paris Motor Show this year in the form of the LIV-2 concept, targeted at the Hyundai Santa Fe. This car provides an very clear idea of what the production Rexton will look like when it is made available for customer purchase in 2017.
Suzuki
• Suzuki SX4 S-Cross facelift• Suzuki Ignis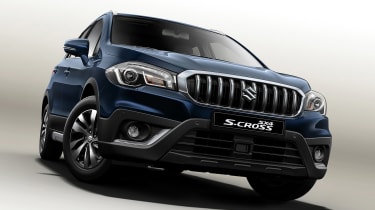 The next Suzuki SX4 S-Cross has been officially launched in Paris. The new crossover is set to gain a new pair of Boosterjet turbo petrol engines and a 1.6-litre diesel, too.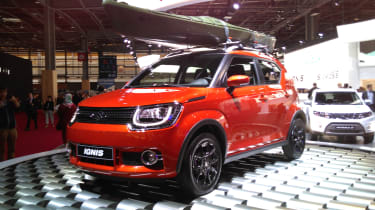 The European-spec Suzuki Ignis is also on display at the Paris show. The boxy supermini crossover takes design inspiration from the SC100 'Whizzkid' coupe, while its slightly raised ride height means it has aimed its sights at the Fiat Panda 4x4.
Toyota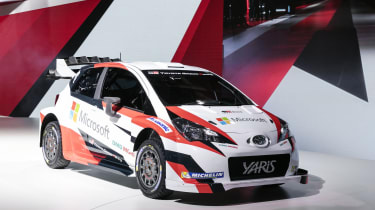 Toyota officially revealed its new Yaris World Rally Car for the first time at the Paris Motor Show. The car is currently being tested in preparation for the 2017 world championship, and the newcomer is designed to take on WRC champion Volkswagen, as well as title contenders Citroen and Ford.
Vauxhall
• Opel Ampera-e• Vauxhall Viva Rocks• New Vauxhall Meriva due in 2017• New Vauxhall family SUV to be built alongside Insignia
Based on the US market Chevrolet Bolt, the Ampera-e is a small electric car that is being shown on the Opel stand this year. Unfortunately, the electric supermini will not be badged as a Vauxhall, as the UK-based brand and sister of Opel has announced that the Ampera-e will not be sold in the UK "in its current generation." A car we will be getting is the Vauxhall Viva Rocks - a tougher crossover version of the Vauxhall Viva/Opel Karl. It's due in the UK next year.
Volkswagen
VW has set out its vision for an alternatively fuelled future with the Volkswagen I.D. concept. With a claimed range of between 250 to 372 miles, the Volkswagen I.D. also features a fully automated driving mode, which VW says will be available to customers from 2025. Visually, the I.D. adopts a completely new design language that will be exclusive to VW's future range of EVs. The front end is completely blanked off, while new digital headlamps are wrapped in LED daytime running lights.
Paris Motor Show press conference timeline
Find out which brands are revealing what and when at Paris 2016 with our interactive timeline...
For more Paris 2016 coverage check out our social media accounts...
2016 Paris Motor Show: dates, venue and tickets
The giant Paris expo Porte de Versailles exhibition centre hosts the Paris Motor Show as usual this year and it's open to the public between 1-16 October 2016. An adult ticket for the day costs €16, while adding a child takes that to €25. You can buy tickets for the Paris Motor Show now on the official website.
The Paris Motor Show, otherwise known as the Mondial de l'Automobile, is held every other year. It interchanges with the equally prestigious Frankfurt Motor Show, and is rivalled only by the Geneva Motor Show in March for the amount of European new car unveils and launches. The 2014 Paris Motor Show was the most popular show of that year in terms of visitor attendance, bringing 1.25 million people to the stands in person.
The Paris Motor Show is home ground for major French manufacturers like Citroen, Peugeot and Renault - along with smaller ones like Aixam and Ligier. But it's a global motor show in every sense and most of the major car manufacturers have a presence there.
Which car do you think will be the star of the 2016 Paris Motor Show? Have your say in the comments...