Sporty Nissan Micra warm hatch on the horizon
Nissan will build a warm hatch version of its sporty new Micra supermini but no plans are afoot for a Nismo branded hot hatch version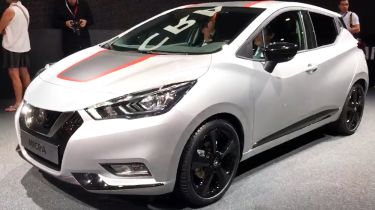 Nissan has confirmed a 'warm' Micra hatchback will join the range in time, producing around 120bhp from a three-cylinder turbocharged petrol engine.
Speaking to Auto Express at the drive of the Micra prototype, the firm's European product planning manager Laurent Marion said, "there'll be a slightly higher performance Micra for fans wanting more; it'll use the three-cylinder turbo engine with 120bhp and will add an extra element of sportiness to the range to fit with how we want to energise Micra buyers. "We're working on different models to follow after the launch."
• New Nissan Micra revealed in Paris
Marion didn't rule out a Micra Nismo hot hatch joining the line-up later, adding that Nissan "has no plans for a Nismo model, but we're not saying no. The decision on where the investment would go comes from customer demand, so we will see."
One of the new models Marion referred to could be a zero emissions variant to rival the Renault Zoe, as the Nissan exec also stated that the new Micra has been designed with electric propulsion architecture in mind, so the supermini could accept an electric motor.
• Nissan planning supermini EV to sit below the Leaf
With Nissan's expertise with electric vehicles, a full EV would be more likely than a hybrid Micra given the cost it'd add to the car in an area of the market where profit margins are already tight.
Marion also confirmed that the five-door Micra will be the only body style offered, so there'll be no small estate to rival the Renault Clio Estate in Europe, or a Micra C+C cabriolet replacement.
Is a sporty version of the new Nissan Micra a good idea? Let us know in the comments...