Nissan considers new electric supermini to sit under the Leaf
Nissan's new electric small car set to follow the next Leaf and could share tech with the Renault ZOE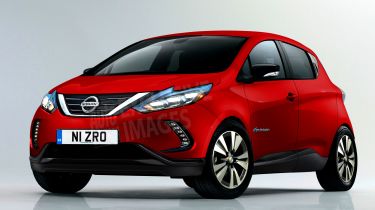 Nissan is most likely to choose a Fiesta-sized supermini or a crossover to sit alongside the Leaf as its next pure-electric vehicle, according to a senior company source.
The Japanese firm has sold more than 200,000 examples of the Leaf since its launch in 2010 - and it is already planning a successor to the model that will stay close to its five-door family hatchback layout.
• Best electric cars to buy now
The recent appearance of a working prototype of the Bladeglider sports car has prompted speculation that the next step in Nissan's publicly stated goal to spread pure-electric tech throughout its line-up could be a niche model for driving enthusiasts.
However, Gareth Dunsmore, the man in charge of Nissan's EV programme in Europe, told Auto Express that a sports car is not a priority for the brand. 
Instead, he gave the strongest indication yet on what's likely to get the green light, saying: "We've invested $5.4bn (£4.1bn) in electric cars such as the Leaf, so we need to ensure we're satisfying as many types of customer as possible. In Europe, that could mean looking towards B-segment hatches [Ford Fiesta size] and SUVs or crossovers." 
Dunsmore added: "The first people who bought EVs were the proud early adopters. The second people were the fleets. And the third people were families, who wanted affordability and practicality. The Leaf is well placed to deliver to those customers, and will continue to do so. 
If we look towards crossovers or the B-segment for the next car, those could make perfect sense." Nissan has relatively straightforward options for an electric B-segment model, illustrated above in our exclusive image. 
The smaller vehicle could become a sister car to the Renault ZOE, potentially using its platform and battery technology. Such a move would help the ZOE's production facility at Flins in France to work closer to its capacity.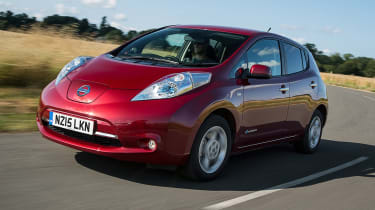 An EV crossover could be based on the Leaf itself. Nissan's EV platform is said to be heavily based on the B0 architecture that underpins the likes of the Nissan Juke crossover, so it could support a vehicle with a raised ride height. 
Dunsmore's comments back up views expressed recently by Nissan's executive vice president for product, Roel de Vries. He said: "Nissan is committed to EVs making up a large part of its range, and we are looking at where we can add more electric cars. The next step would be in another volume sector, which probably isn't sports cars."
Would you consider buying a supermini-sized Nissan EV? Tell us your view in the comments…