SEAT X-Perience brand to expand across the range
SEAT design boss reveals models like the Mii, Ateca, and Arona SUV could all get more rugged 'X-perience' crossover variants.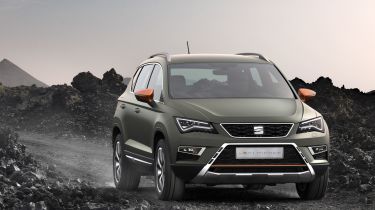 SEAT's line of crossover-inspired X-Perience products looks set to expand in the next few years, according to brand design boss Alejandro Mesonero. Variants of the Ateca and Arona SUVs, plus the Mii city car and even the Ibiza could all be built with rugged design cues.
Speaking to Auto Express at the 2016 Paris Motor Show, Mesonero told us: "[we are] looking to expand the X-Perience concept to more models in the range". He highlighted the Ateca X-Perience show concept that took pride of place on SEAT's stand, saying it is "ready to produce" – that car is expected to be launched next year.
"We are learning that the little extra ruggedness in design that X-Perience offers is greatly appreciated by clients," Mesonero claimed. He went on to mention models like the Mii city car, of which a potential X-Perience variant was briefly shown at the Mobile World Congress earlier this year.
Volkswagen already produces a crossover version of the near-identical up! city car. Called the Cross-up!, it gets a raised ride height and additional lower body cladding, but it is not offered in the UK at present. It's expected, however, that future SEAT variants will be offered over here.
An Arona X-Perience will almost certainly arrive shortly after the small SUV's release in the second half of 2017, which would compete with the Hyundai i20 Active.
Currently the only model in SEAT's lineup on sale with X-Perience branding is the Leon. Available in estate form only, it complements the rugged exterior styling with a Haldex part-time all-wheel drive system and raised ride height. The Ateca SUV will also feature all-wheel drive, but it's unlikely the Arona or Mii will be offered with it due to the costs associated with development and lack of interest from buyers.
Is SEAT's plan to expand the X-Perience range a good one? Let us know your thoughts below...