Mercedes EQ electric cars target 250-mile minimum range
Minimum range just shy of 250 miles likely for Mercedes EQ models when production starts in 2019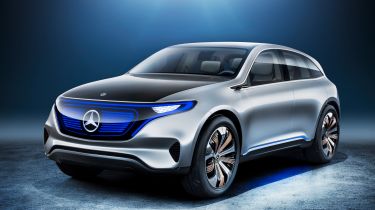 Mercedes' new range of EQ all-electric vehicles are likely to have a minimum official range of just under 250 miles, the firm's head of R&D has revealed.
The German brand previewed what's likely to be the second EQ model with its Concept EQA at Frankfurt. The neat hatchback's lines are likely to be retained as it enters production - probably no more than a year to 18 months after the first EQ vehicle, the EQC SUV.
• Best concepts at Frankfurt 2017
Speaking at Frankfurt, Mercedes board member for research and development Ola Kallenius said that even though the company plans to offer different scales of battery packs to give a range of price options, customers would still expect a range at least on a par with today's more capable EVs.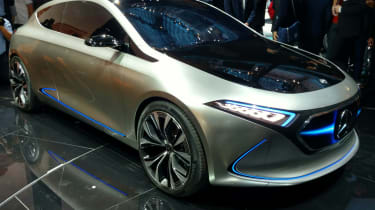 "This is where customer behaviour could differ a little from the way it is today," Kallenius said, "but I would say it should start at around 400km (250 miles) or up to 500km (310 miles). In real life, depending on how you drive it, it could be a little bit less than that. Of course, if you look at average commutes, they're no more than about 50 kilometres (31 miles), but it wouldn't make any sense to produce an electric car with a range of, say, 100 kilometres (62 miles)."
"But if you're an urban user, and you want a compact car, why pay for a very large battery when you never go long distances? So I can see families where they have two or three cars, they will think differently. In my case, we have two cars in the family, and I could see us having one pure-electric car and one plug-in hybrid, for instance. The electric car would be mostly used by my wife, because she doesn't go from Stuttgart to Hamburg once a week. And even if we did both need to go, we'd use my car. So she could, in theory, get away with having only 100km of range."
Kallenius added, "At the higher end, we will eventually put cars out there, because we have to cover a broader market, where you could go to 600km (370 miles) or even 700km (435 miles)."
To help prepare the infrastructure for EQ and electric vehicles in general Mercedes has also been experimenting with induction mats for wireless charging. And the company is part of a consortium that is installing fast chargers - potentially rated at up to 300kW - at an initial 400 sites across Europe.
Ten Mercedes EQ models due by 2025
We already know that Mercedes' EQ electric sub-brand will launch 10 new pure-electric vehicles between 2019 and 2025.
The German manufacturer's EV sub-brand will start the pure-electric push with the production version of the Concept EQ, revealed last year at the Paris Motor Show. It's likely to be seen in 2018 before deliveries start the following year.
As revealed by Auto Express in 2016, the company has registered all suitable EQ-prefixed badges, suggesting everything from the now revealed small EQA to a large EQS saloon that has yet to be seen. At the time, Ola Kallenius told us: "Over a broad range of our portfolio, in volume segments, we will have attractive products at differing price ranges. This is a volume bet."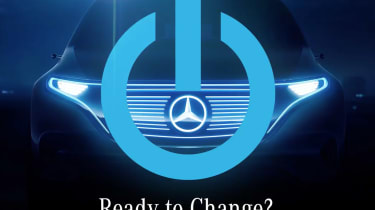 Kallenius also admitted that even within the time frame to 2025, additional hybrid models could be added to EQ's pure-electric range. "Can we use the EQ brand for more? Possibly," he said. "We can look at intelligent plug-in hybrid models, and so on. There is room to do more than this brand. EQ need not be pure EV, although at the moment, it is."
EQ models will be built alongside conventional Mercedes, as the firm tries to avoid the costly production processes involved in BMW's carbonfibre-heavy i vehicles. "Flexibility will be key - both in engineering and in the production network," said Kallenius. "We must design and develop these cars in such a way so we can use engineering models from different vehicles, like we do already today between our regular cars. And we have must have flexibility in our production network so we can switch between cars that are based on combustion engines and cars that are fully electric. I believe we can make money on this project. The key is to get the costs down, especially on the batteries."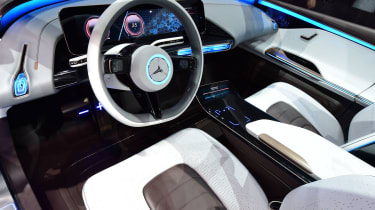 When asked why Mercedes can make money on EQ where BMW has struggled to return a profit on its i eco-cars, Kallenius said, "If you go to a party first and you're a little bit too early, you can run out of steam. If you come too late, you'll notice the party is kind of over. Timing is everything here."
Kallenius also revealed that Merc's new electric vehicles will be sold from conventional dealers - though they are likely to get their own 'branded' areas of the showrooms, as with AMG performance variants. The firm is also keen for more of its customers - conventional and EQ - to be able to buy cars online.
• Best electric cars to buy now
"We're in the middle of the digital revolution," Kallenius said. "Everything in sales and marketing is going through digitisation. That doesn't mean physical retailers aren't important; they are. But the end result will be something that mixes the two. The human touch and the test drive are still important. What you don't want is to be bogged down with five hundred pieces of paper and checks. The whole transactional piece should be easier.
"Every car that has the three-pointed star on the bonnet should have that special Mercedes moment," he added. "The EQ customers should expect and receive the same level of customer experience."
Can Mercedes make a success of electric cars with its EQ range. Give us your opinion in the comments area below...