'Exactly how lucrative are car buyers to manufacturers?'
Mike Rutherford digs through the profit reports to see who gets the most from punters, and the results are "boringly reliable"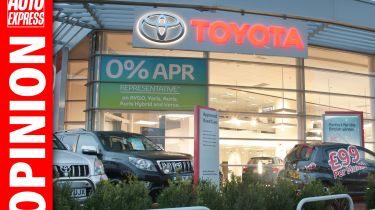 So how lucrative are car buyers for the major motor manufacturers out there? How much are they making out of their customers annually? And are profit levels appropriate or excessive?
If we're looking at the big league players during the financial year from April 2015 to March 2016, Suzuki gets us off to a respectable start with a figure of just under $1billion, whereas its fellow Japanese firm, Mazda recorded a tad over the $1bn mark.
Sandwiched between the two was Peugeot-Citroen on a billion. China's Dongfeng Motor made a billion and a half. Tata Motors of India, $1.7bn, and Kia of South Korea, $2.3bn. Honda Motor ($2.9bn) is not far behind Renault on $3.1bn, Nissan trousered $4.4bn while China's SAIC (MG's daddy) turned in a healthy profit of $4.7bn. 
Hyundai Motor made $5.7bn and Group BMW came in at $7bn on the nose. How's that for German efficiency – aided and abetted by Britain's MINI and Rolls-Royce?
• "Toyota has put one over VW Group when it comes to earning a shilling"
Ford seems to have been strangely quiet lately, yet this couldn't prevent Uncle Henry from notching up a cool $7.4bn profit – more than twice as much as in Ford's previous financial year. Daimler (that's Mercedes and friends to you and me) enjoyed a slight rise to $9.3bn. A profit of $1bn per month must be the mid-term goal for Merc's bean counters, who know that the self-inflicted damage at arch rival, the Volkswagen Group, is something they can and will cash in on.
Thanks largely to some life-saving aid from President Obama in recent years, GM made $9.7bn – more than twice as much as a year earlier. 
• "The world's number one vehicle producer needs the world's number one designer"
I mean in it the nicest possible way when I say that Toyota is boringly reliable, as are some of its cars. I know this because I've spent time with the company in Tokyo and have driven/sailed the barge that is the Camry. The Japanese firm is eerily reliable when it comes to turning a profit, too. Its figure of $19.3bn is eye-wateringly high enough for Toyota to call itself one of the 10 most profitable companies in the world.
Almost forgot... at the opposite end of the scale is the VW Group. Despite the fact it sold millions of cars and vans, the Group didn't make a penny in profit for the 12 months in question, some of which was dogged by its diesel debacle. Unfathomably, it recorded a hefty loss of $1.5bn. Any further comment from me on this would, I think, be superfluous.
What do you think about those figures? Leave us a comment below...