"The world's number one vehicle producer needs the world's number one designer"
Toyota is celebrating 50 successful years in Britain, but columnist Mike Rutherford thinks it needs some new blood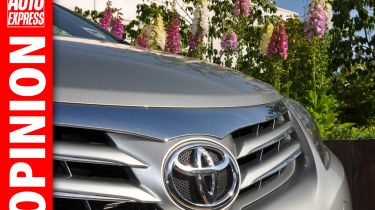 Calm and cautious Toyota has a better sense of humour than you might give it credit for. This is a company that's quietly having a laugh at the expense of its biggest international rivals, VW and GM; lesser domestic enemies, Nissan and Honda; plus neighbouring Korean upstarts, Kia and Hyundai.
Most of these competitors are louder, bolder and cockier. But in terms of annual vehicle production, sales, profits and market value, they lose and Toyota wins. It is the undisputed world champion of motor manufacturing.
Also, it's not doing bad in Blighty. Toyota GB is celebrating 50 successful years here, 25 of them building Toyotas at Burnaston. Its dealers are rated in the top two of our Driver Power survey. The cars get five-year warranties that most Japanese makers refuse to offer. Wonder why?
• "The London Motor Show will be a sell-out success"
True, Toyota has adopted an ultra-cautious 'born to be mild' approach to design over the decades. But it's had its moments. The MR2 Mk1 (most underestimated modestly priced car I've owned) in the 1980s, the game-changing Prius hybrid in the late 1990s, the brilliant FJ Cruiser in the 2000s and the Mirai fuel-cell car in the mid-2010s are motoring milestones.
Equally important is that, unlike arch-rival Nissan, Toyota hasn't backed the farm on 100 per cent electric family cars which sell slowly. And despite the fact that it's almost 30 years since I first visited Japan to travel in fully functional autonomous Toyotas, the company is cautious rather than ecstatic about self-driving cars for the masses. And rightly so.
• "Turn Britain's defunct rail routes into new roads with cycle lanes"
Toyota doesn't get everything right. Some of its designs have been plain wrong, as was its daft dabble into Formula One, plus its role as a serial recaller of vehicles in recent years. But that was then, this is now, and Toyota's looking towards a future where I predict it will retain its number one status. Yet I'd have even more confidence if it acquired a more daring approach to the physical appearance of its cars.
This can easily be achieved – by giving Ikuo Maeda, Mazda's global design chief in Hiroshima, the same job title, together with a healthy pay rise, plus a new box of crayons at Toyota's studio in Tokyo. The world's number one vehicle producer needs the world's number one designer. Toyota's the company. Maeda's the man.
Does Toyota need to employ a new head designer? Join the debate in the comments section below...