'Buyers have demanded more cars wearing 'made in Britain' labels'
Mike Rutherford is proud to be British after looking at the official car sales figures from 2016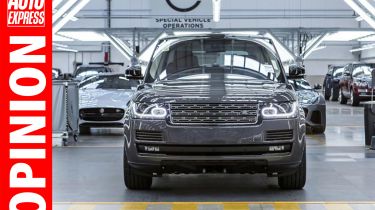 If the official figures are to be believed, UK-based motorists played a blinder in 2016 by buying so many new cars that registrations for the year nudged 2.7 million – a record high. Corresponding numbers for factory-fresh vans and trucks were up, too. The same goes for used sales. All this, don't forget, in one of the most tumultuous 12-month periods in British history.
This truly unprecedented demand for brand new, pre-registered and second-hand vehicles meant traditional dealerships (plus increasingly important non-traditional retail outlets) attracted more paying customers than ever in 2016. In turn, HM Treasury enjoyed easy profits – via sales and other vehicle-related taxes – like never before.
• 2016 a record year for UK new car registrations, but numbers predicted to fall in 2017
More than 200,000 engines were built every month, and while the official figures due later this month are expected to show 2016 wasn't quite the best ever year for annual car production (1.9m vehicles in 1972 remains the target to beat), that 45-year-old record is set to be smashed in 2017 when around 2m cars should roll off UK production lines.
Buyers in mainland Europe and beyond have in recent months demanded more, not fewer, cars wearing 'made in Britain' labels. And that trend is likely to continue – largely thanks to our number one producer, Jaguar Land Rover, building a new range of cars that's better than many (or most) German firms'.
According to the Society of Motor Manufacturers and Traders, of every 100 new cars registered here last year, just three were alternatively fuelled vehicles. That's worrying, because the mix of three per cent 'alternative' and 97 per cent 'conventional' in 2016 is a repeat of 2015 – proving that AFVs remain comparatively unattractive to the motoring masses.
Another bummer is that two legendary US brands finally threw in the towel last year when Chevrolet registered only four cars, while Chrysler did even worse with, er, none. Not one. Conversely, registrations for homegrown marques such as Bentley, JLR, McLaren and MG rocketed.
All this is enough to make the good people of Blighty feel proud to be British. And why not? We may be a small and somewhat isolated land. But we're punching well above our weight – in our design studios, engine plants, car factories and increasingly busy showrooms.
And let's give a special New Year thank you to the strike-free, salt of the earth British car workers, who are now ranked among the world's best.
Do you prefer British marques? Let us know in the comments section below...