'Our customer might move and find that 'everyone' has a Ferrari, that's embarrassing'
Mike Rutherford is in the US and finds that sales of Koenigsegg, Spyker and Rimac cars are booming as customers try to stand out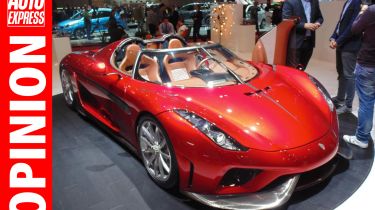 Looking for an 'easy' yet alluring career in the motor industry? Then get yourself a sharp suit before landing a job selling dream cars costing at least six figures. Positions for such men and, increasingly, women are on the up in the supercar world.
That's largely thanks to eye-wateringly wealthy buyers in New York City and Los Angeles – because the US still ranks as the most important and influential market for wheels like this. So it was appropriate that the small but perfectly formed Supercar Forum stand at the recent New York Auto Show was considered the most expensive piece of real estate in the city.
On the grounds that I have what the US organisers describe as a "cute Irish accent", I was the Forum's appointed moderator. Inevitably, the scene was blessed with Koenigsegg's presence, and its sales boss, Tariq Ali, confided in me that many of his clients don't have to be persuaded to purchase his car over a rival. "If they like the Koenigsegg plus the Spyker and Rimac," he told me, "they'll order all three."
• Best supercars on sale right now
Victor Mullen agrees that it's generally "a very easy sell" to shift his Spykers: "A typical customer? When he was young, he bought a Porsche 911. But all his peers had them, too. So he goes for a Ferrari, Bentley or Aston. Then he moves to suburbia and finds that 'everyone' has a Ferrari 488. That's very embarrassing. So that's when he goes to a boutique brand like Spyker."
Rimac's Chief Operating Officer, Monika Mikac, has a very different approach. "I always say to a potential customer, they have to try our car. Then they will love it." Is it really the case that a supercar manufacturer occasionally deals with a would-be client who argues he could do with an expensive painting or sculpture instead of yet another supercar?
"Yes, that's true. But I tell the client that if he buys a Rimac he can drive it and position it as a piece of art in the home, on the drive, in the garage or car collection or wherever. A lot of time, effort, passion and money is invested in producing our cars," the most articulate and convincing saleswoman I've ever met in the global auto industry rightly says.
I just pray a giant, wealthy predator like VW Group doesn't swoop in and grab her impressive but comparatively tiny Croatia-based company. Mind you, she'd probably prove to be a better VW chief than its disgraced and departed chairman, Martin Winterkorn of Dieselgate fame.
Do you agree with Mike? Let us know your thoughts in the comments section below...