Driving jobs: how to be a chauffeur
Fancy a job as a professional driver? Our man gets a chauffeur masterclass in what's involved
"Move out of the way! Why do you people think you can block the road?" bellows a woman in a silver Fiat Doblo, her passenger looking at me embarrassed through the window. We're standing outside the rather grand Baglioni Hotel in Kensington, London, where I've parked the Maserati Quattroporte S – particularly well, if I may say so – by the hotel's elegant entrance. Nevertheless, the Doblo driver doesn't want me to be there and is making it very clear.
"She's speaking to you like that firstly because of the car, but more importantly because you've got that hat on," Andy Dubberley says. Andy is a professional chauffeur, licensed bodyguard and certified protection driver with more than 20 years' experience. He has a client book filled with glittering names such as Sting and Madonna, as well as being Dame Shirley Bassey's personal chauffeur, so is the perfect man to teach this over-privileged Auto Express journalist the ropes.
Safe within the glamour of the hotel's bar and away from angry drivers, Andy sits me down and the chauffeuring masterclass begins. "You can take the hat off for a start," he quips. "Chauffeurs don't tend to wear those anymore."
With my finest charcoal suit specifically pressed for the day, I had secretly modelled myself on Parker from Thunderbirds, and thought I had dressed the part. But Andy explains the hat and its image, like the chauffeuring industry, has been diluted over the years.
"Traditionally, a chauffeur would wear a double-breasted suit and a cap in charcoal grey, but now that's not so much the case. Firstly, it's a matter of discretion – people don't want their driver to stand out as 'a chauffeur'. Secondly, the chauffeur doesn't want to feel self-conscious – you don't want to be that guy at Terminal 5 in the full regalia." It's a sign of times changing. Not too long ago, it used to be simple – there were taxi drivers and then chauffeurs. Now, in large cities like London, there are still the cabbies and chauffeurs, but there are also private hire companies and ride-hailing apps.
"Uber is convenient, undoubtedly, but it shouldn't be forgotten there is still a nucleus of old-school chauffeurs who have enormous pride in what we do, and want to uphold our values and raise standards," says Andy.
And reaching those standards starts in the classroom, not on the road. Andy is fanatical about the details – if you're going to cut it as a chauffeur for high-class clients, everything must be perfect.
Before handing over the keys to the Maserati, I'm first taught the art of preparation. Chauffeuring is not just a case of arriving at the client's house and driving them to their chosen location – it's a procedure that has to be planned with military precision.
In the world of high-class chauffeuring, clients fall into 'risk' categories – they may need a bodyguard with them or they may attract the attentions of the paparazzi. A good chauffeur analyses how much risk is attached to the client and adapts their driving and the journey to suit.
Luckily, my client is well known but is unlikely to attract unwanted attention, and just wants to travel from the hotel to Harvey Nichols in Knightsbridge. It's also doubtful I will have to employ defensive driving techniques – shame, but probably a good thing. Next comes the preparation of the inside of the car. Naturally it has to be spotlessly clean, but while you would expect that from a taxi or a private hire car, in Andy's world, it's a little more than that.
"Here are two newspapers – The Guardian and The Sun," says Andy. "Which would you place on the seat next to your client?" The answer is neither. A good chauffeur would never dare assume the political leanings of their client. Not only is getting it wrong offensive and deeply embarrassing, it would also lead to them not getting another job anytime soon. In fact, it has potentially career-damaging consequences, as a bad recommendation spreads quicker than a good one.
You can even get it horribly wrong with the choice of water – 500ml glass bottles in the cup-holders are a no-no, as a better choice are the tiny bottles of a premium mineral water manufacturer. Feeling thoroughly educated, it's time to go to the Maserati – with hat on, I insist.
Once again, there's an art to opening the rear doors – a slick arm movement to open, stand at the edge of the door and close with a firm shove, but never a slam. Only assist the client when they're struggling. With the client in the back, it's time to go, but even with this, there's a skill. Right from the off, your brain needs to be turning over like that of a black cabbie, constantly working out the best route to get the client to their destination right on time. A red light? A traffic queue? A bin lorry blocking the road?
These are all challenges that need to be tackled without ever letting on to the client what's going on. Within seconds of pulling away from the hotel, the pressure of the presence of an influential client sitting behind you is palpable. While they're more likely to be sending an E-mail or taking the chance to have a nap, the feeling that every hand movement on the steering wheel and each prod of the brakes is being judged out of 10 is excruciating.
"You have to relax, though," says a surprisingly calm Andy to puncture the awkward silence in the car. "If you display any sign you're stressed, it'll make the client uncomfortable. You have to remember you're in charge of this environment – this is your space. The client is paying you to take them to their destination and expects you to be the expert. If they haven't got their seatbelt on, kindly, but firmly, ask them to put it on. You'll gain their respect."
Being an expert driver is a must. Smooth application of the controls is naturally what's needed for chauffeuring, but, once again, there's more to it than that. Anticipation and reading what could happen on the road is just as important. Whether that's ensuring you stop four feet away from the car in front, just in case a dangerous situation occurs, or if you need to make a quick getaway or even making sure the stop/start system is switched off, getting every little detail right is crucial. Luckily, the Quattroporte is an easy car to drive, and as we pull up outside Harvey Nichols, the Italian car's understated good looks mark it out from the cavalcade of highly polished black Mercedes S-Classes and BMW 7 Series. In fact, several chauffeurs cast their eye in my direction as I hurry around to let my client out.
Much like black cab drivers, high-class chauffeurs are like a community, and Andy, a founding member of the Guild of Professional Chauffeurs, represents and upholds the traditional values of the job. But it's not just a job – it's a highly skilled profession that you take great pride in getting right. With the client happily lunching in 'Harvey Nicks', it's time to point the Maserati back to the hotel.
"You can take the hat off now, James," says Andy.
Not quite ready to be a chauffeur? There are plenty more driving jobs...
Driving instructor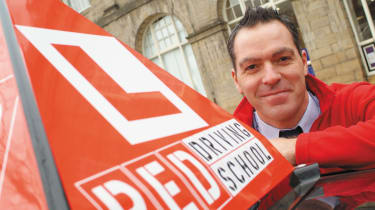 After passing three tests to become a driving instructor, you're your own boss. Typical salary is £19,000-£41,000.
Black cabbie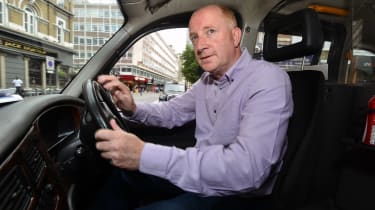 It'll take two to four years to learn 'The Knowledge' (320 routes, 25,000 streets and 20,000 places). Earn up to £29,000.
Manufacturer test driver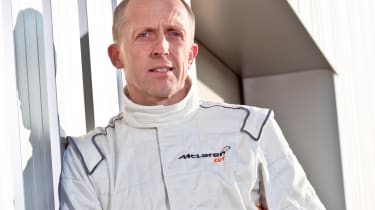 It's both a fun and important job as what you do will affect future car development. Racing experience needed to earn £45,000.
Traffic officer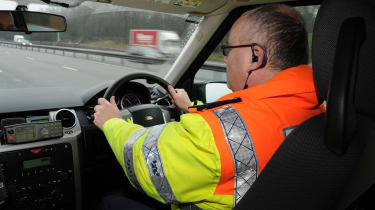 You'll need motorway driving experience, four weeks' training and to have been driving for two years or more. From £23,000.
Would you like to be a professional chauffeur? Let us know in the comments section below...