"Why self-driving cars will need human back-up"
Self-driving cars are on the way, but deputy editor John McIlroy thinks they will never be truly autonomous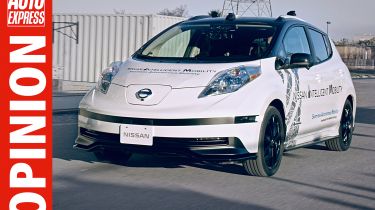 When autonomous cars really do allow us to take our hands off the wheel, will they really be able to cope with every on-road situation? This was one of the topics raised last week during a fascinating day of presentations on the future of the car, organised by the Financial Times.
One of the event's most interesting presenters was Maarten Sierhuis, who leads Nissan's research centre in Silicon Valley. You might expect someone who once wrote software for NASA to be a firm believer in artificial intelligence and processor power. But in fact, Sierhuis and his team argue that a key feature of autonomous vehicles will be the ability for them to call on a human for back-up.
• All you need to know about self-driving cars
In the end, the relationship may be similar to the one between jet airliners and air traffic controllers, who can provide guidance and transmit instructions to the crew and, in many cases, the plane itself.
In Sierhuis's vision, if a self-driving car – like the Leaf prototype that demonstrated Nissan's Seamless Autonomous Mobility earlier this year – comes across an obstacle it doesn't know how to deal with, it'll beam information and images back to a command centre for a human being to examine.
The operator can then 'paint' a suitable course of action on to a high-definition map and send that back to the car – as well as any other autonomous vehicles in the area, allowing them to be better prepared for the same scenario. "It'll be impossible," Sierhuis says, "to have autonomous vehicles driving around without them ever needing help."
It sounds clunky, and a little less sci-fi than what's been promised so far. But this grounded approach is likely to reassure anyone who's had misgivings about how this bleeding-edge tech can ever be phased into roads that still regularly throw up the unexpected.
Are you looking forward to the arrival of truly autonomous cars? Let us know below...