Most congested UK cities (excluding London) revealed
Experts sidestep the gridlocked Capital in their countdown of the 10 most traffic-clogged cities in the UK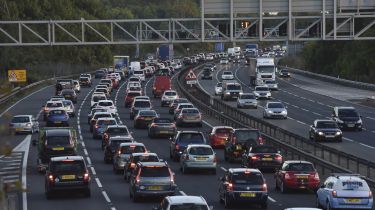 A new government-backed study has named Manchester as the most congested city in the UK aside from London.
Liverpool took the dubious honour of being named the second-most congested city, with Birmingham coming in third. Portsmouth and Southampton team up in fourth place, while Nottingham finished fifth. 
The National Infrastructure Commission's (NIC's) Assessment report found cars and buses in central Manchester experience delays of over 100 seconds for every mile travelled. The national average for urban A roads is 78 seconds.
The NIC used its revealing study of the UK's most congested cities to recommend increasing powers for local authorities in order to improve traffic flow.
Sir John Armitt, chairman of the NIC, explained: "From Manchester to Bournemouth our cities are facing gridlock – creating misery for people trying to get from A to B.  Trying to tackle this from London won't work. Our metro mayors and city leaders need to be in the driving seat to develop local solutions." 
The NIC is calling for central government to increase the amount of money and power local authorities are given, recommending major cities receive £43 billion in central funding by 2040. This will, according to Sir John: "give the people who know their cities best the tools they need to improve urban transport and support the delivery of new employment opportunities and homes." 
The top 10 most congested parts of England outside London
1. Manchester
2. Liverpool
3. Birmingham
4. Portsmouth and Southampton
5. Nottingham
6. Leeds
7. Bristol
8. Brighton
9. Leicester
10. Bournemouth
Rather than measuring average speed to determine congestion levels, the NIC compared the ease with which people could drive from one area to another during peak and off-peak times. Places with the largest variation in travel times during peak and off-peak hours were rated as being most congested. The NIC says this approach better reflects the snarl-ups people experience in real-life driving at busy times. 
Commenting on the NIC's report, Edmund King, president of the AA, said: "Residents of Manchester won't be surprised to top the polls of the most congested city outside London.
"Private car ownership is still strong, and will remain a fact of life in cities for decades. Unless councils provide attractive, reliable alternatives, traffic jams will remain a fixture of city life." King recommended: "Improving public transport, cycling and walking provision should be the aim rather than just restricting access to some vehicles."
• Best parking apps on the market
What is the National Infrastructure Commission?
The NIC was set up by George Osborne in in 2015 to provide independent advice on infrastructure, support sustainable economic growth and improve the quality of life. It was also tasked with overseeing £100 billion in spending on infrastructure projects. Like the Serious Fraud Office and the Food Standards Agency, the NIC is classed as a non-ministerial government department (NMGD), so receives central funding but does not operate with direct political oversight.
Which city has the worst traffic in your experience? Let us know in the comments...