2,500 cars clamped a week for no road tax
DVLA figures reveal 199 Porsches, seven Ferraris, eight Rolls Royces and 19 Cadillacs were among the cars clamped last year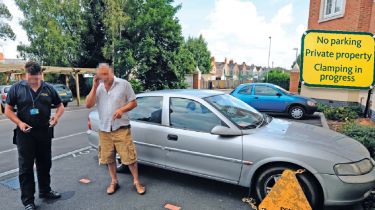 Some 2,557 cars were clamped every week in the last financial year due to their owners not having paid their road tax, or vehicle excise duty, according to new figures released by the Driver and vehicle Licencing Agency (DVLA).
A total of 132,938 untaxed vehicles were clamped by DVLA agents in the 2017/18 financial year. Among the clamped cars were 350 'prestige' cars, with 199 Porsches, 23 Maseratis, 10 Teslas and eight Aston Martins among the cars to be fitted with a yellow boot.
• UK's busiest speed camera catches 50,000 motorists in three years
One McLaren 650S, one TVR Chimera and one TVR Tuscan were also among the untaxed vehicles clamped by the DVLA, as were 73 London Taxis, five Harley-Davidsons and four motorhomes.
The latest round of results shows the DVLA clamped 13 per cent more cars in 2017/18 than it did the previous year. That rise is on top of the number clamping incidents follow rates rocketing in October 2014, when the paper tax disk was abolished and clamping rates shot up by 80 per cent.
The DVLA has targeted 11 key areas over the last year where road tax evasion was most prominent, with targeted areas including London, Birmingham, Manchester, Glasgow, Sheffield, Cardiff, Nottingham, Bristol, Leicester, Coventry, and Northern Ireland.
The DVLA's senior enforcement leader, Bethan Beasley, said: "These figures show that it doesn't matter what type of vehicle you own, whether it's a sports car, motorhome or even a bus – if you don't tax it, we'll clamp it."
Have you ever had your vehicle clamped? Let us know in the comments below...