Fourteen-year wait to repair UK's pothole-ridden roads
Nearly two million potholes were filled last year but it will still take 14 years to clear the backlog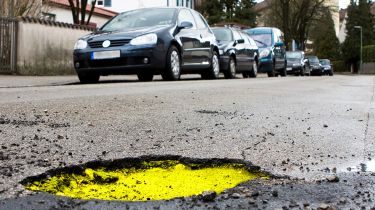 Despite a pothole being repaired every 15 seconds, councils in England and Wales are struggling to attend to the growing backlog of road repairs. The estimated bill for pothole repairs will be £11.8billion says the latest report from the Asphalt Industry Alliance. 
The report estimates it would take councils 14 years to attend all of the required road repairs, a number likely to increase thanks to recent budget cuts. Last year, councils in England and Wales faced on average a 16 per cent fall in their road maintenance budgets.
• Government to tackle fuel theft from filling station forecourts
Last year, the Government announced a  £250million pothole fund to aid councils fix over four million potholes by 2020/2021, with the first £50million to be distributed over the next 12 months. Over 100 councils in England will receive funding to help remove nearly 943,000 potholes, with councils in South West and South East to receive the most. 
However, despite a quarter of a billion pounds dedicated to repairing potholes, the total shortfall in the annual carriageway maintenance budget was a staggering £791million in 2015, up £230million from the previous year. Each council currently faces an average £69million estimated on-etime cost to bring its roads up to a reasonable condition. 
Potholes cause £684m of damage to UK cars
The growing backlog of road repairs isn't just an issue council bookkeepers have to deal with, motorists are starting to feel the effects of lagging road repairs. The deteriorating state of Britain's roads cost motorists £684million in pothole related damage. Last year, 6.3million drivers had to pay on average £108 for repairs to tyres, wheels, suspension and body work, caused by potholes, according to tyre and parts specialist Kwik Fit. 
• London parking space for sale: £350,000
Cllr Peter Box, Transport spokesman at the Local Government Association, said: "It is becoming increasingly urgent to address the roads crisis we face as a nation. Our roads are deteriorating fast and it would take almost £12billion and be close to 2030 before we could bring them up to scratch. 
"Our roads crisis is only going to get worse unless we address it as a national priority. The Government's own traffic projections predict a potential increase in local traffic of more than 40 per cent by 2040. Councils desperately need long-term and consistent funding to invest in the resurfacing projects which our road network desperately needs over the next decade." 
What are the roads like where you live? Tell us in the comments below...