No drink, No doubt: our drink-drive campaign
Our drink-drive campaign, in association with IAM, calls on drivers not to drink anything before driving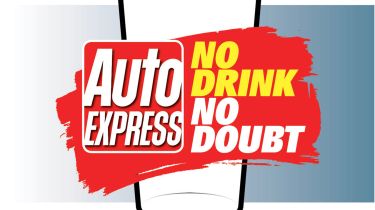 More than 10 per cent of those caught drink-driving are just a fraction over the limit, highlighting the uncertainty about how much you can legally drink before taking the wheel.
Auto Express took a snapshot of drivers attending this year's Institute of Advanced Motorists (IAM) rehab course, and found 13 per cent recorded no higher than 55mg per 100ml on a roadside breath test – just over the legal limit of 35mg.
IAM's statistics also reveal that if you're within the 55mg tolerance, the average ban is still 16 months – a costly penalty for that extra drink. 
• Autumn Statement 2014: what it means for motorists
That's why Auto Express has launched its "No drink, No doubt" campaign, calling on motorists not to drink any alcohol if they're thinking of driving. 
It's backed by our poll, which shows 46 per cent of our readers would support the introduction of a zero tolerance policy on drink-driving in England.
No drink, No doubt: Support
Our campaign has received industry support, too. Kath Pavitt, driver education director at IAM's Driver Retraining Academy, said you can never guarantee being under the legal limit if you drink alcohol. That sometimes includes early the next morning, too.
"If you're in any doubt it should be zero tolerance – there can be so many factors that affect you," she explained. 
"You could have just one glass of wine, but other factors could still impair your vision or driving. A lot of offenders don't understand how alcohol affects you and how long it stays in the system."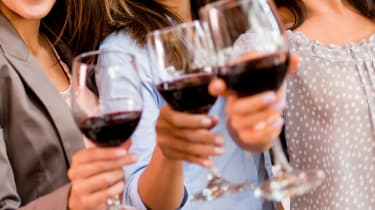 Gender, weight, height and how much you've eaten are just some of the factors that play a part in how the body metabolises alcohol. It's for that reason there's no scientific rule for making sure you're safe to drive.
Pavitt added: "The message I would want to give is not to drink at all. At this time of year, too, I'd say if you're in doubt take a taxi or walk."
Historically, drink-driving is more common among men, but Gus Park, of insurer Direct Line, said his company's research had found nearly half of women drivers had admitted not knowing how many glasses of wine or pints of beer they could drink before taking the wheel.
He added: "The safest thing to do is not to drink at all, as the limits and what you can drink is confusing, and there's no certainty that you won't be over the limit. There's no precise rule [as to how much you can drink], so you can't say that one pint, one-and-a-half pints won't put someone over the limit."
• MPs call for measures to clamp down on school run anarchy
Park also explained it wasn't just a problem at this time of the year, either, when drink-driving traditionally hits national headlines. He said: "Police concentrate on the festive period, but the failure rate for this period is lower than for the rest of the year. People are altering their drinking behaviour depending on the time of year."
The uncertainty on drink-driving extends to a variation of laws across neighbouring countries (see map, opposite). Scotland has just announced its move to a tougher blood-alcohol limit. So will England follow? Although our survey of more than 3,000 readers suggested there's national approval for a zero tolerance policy, the Government is unlikely to budge – for now, at least.
With next year's General Election and an approaching Christmas recess, it's unlikely to even be discussed until after the votes have been cast in May.
The Department for Transport (DfT) has made some progress, though, as it's been working to close the loopholes in the system. Drivers caught over the limit by a breathalyser used to be able to request a blood or urine sample at the police station. It's estimated around eight per cent used this delayed second chance to sober up and get out of trouble. But they can no longer do this – so the only way to avoid a ban is to follow our campaign and not drink at all.
No drink, No doubt: All about our drink-driving campaign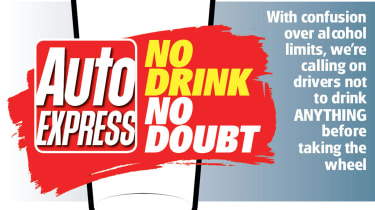 Police often focus drink-drive patrols over the festive period so it's the perfect time to launch our No drink, No doubt campaign. Our research and experts agree there's really no way to be sure that you're not over the limit at any time of the year.
Even one glass of alcohol can have an effect on driving – with potentially devastating consequences for everyone involved – so for safety's sake it's best not to drink at all.
How UK & Eire limits differ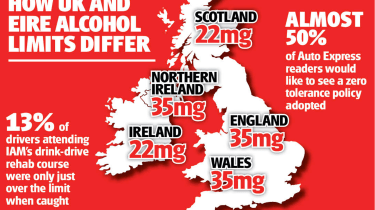 The drink-drive limit varies according to whereabouts you are in the UK and Ireland. Scotland has just brought in tougher measures, bringing its limit in line with the Republic of Ireland's. When driving north of the border, you can now only record 22mg of alcohol per 100ml of breath.
However, in Northern Ireland, Wales and England, the drink-drive limit remains at 35mg per 100ml. These are some of the most lenient limits across the whole of Europe.
Designated driver boom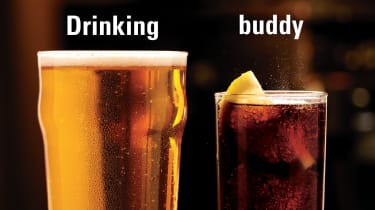 Nearly half of people in Britain will appoint a designated driver at least twice this Christmas, new research has revealed. And more than half of those designated drivers (56 per cent) said they were happy to drive up to 15 miles to drop off friends after a night out. 
It's not just designated drivers who'll be generous over the festive period, with 80 per cent of revellers happy to cut their night short for a designated driver. Budweiser, which carried out the research, found safe, trustworthy driving, reliability and patience were the top attributes for designated drivers.