Police to use HGV spy trucks to spot motoring offences
Police set to patrol roads in unmarked HGVs with cameras to spot offenders from above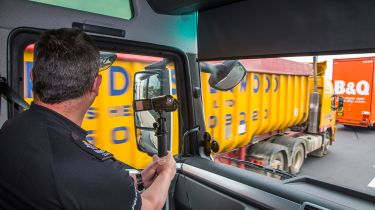 Drivers face a new stealth 'spy in the cab' offensive by police, using a secret unmarked lorry to catch those who text and phone at the wheel or commit other traffic offences.
Thousands of drivers are expected to be prosecuted when it starts patrolling  the nation's motorways and major A-roads in the spring – with a police driver and an officer armed with a video camera sitting high above the traffic on the look-out for offenders.
• Learners recruiting lookalikes to cheat driving test
A support team of two police motorcyclists and a marked police car in constant touch with the undercover lorry will drive nearby to help gather evidence against motorists committing offences. These include texting or phoning while driving, speeding, lane hogging, drink or drug driving, driving without care or failing to wear a seatbelt.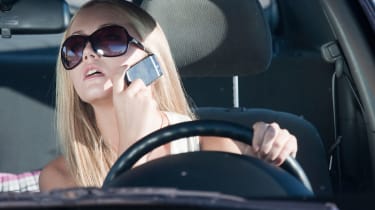 Police in the lorry will contact the support team to stop and deal with the errant drivers with words of advice, driver education courses, fixed penalty notices or summons to court. Foreign vehicle drivers will be dealt with through the fixed penalty scheme.
• Keyless car crime up as gangs target vans
The decision to go national with the scheme from 30 March follows a three-month trial between February and April last year in five police areas headed by Surrey, and including Hampshire, Sussex, Thames Valley and Warwickshire, in conjunction with the Highways Agency.
From this year, it'll cover England's major motorways and strategic roads, used daily by more than four million drivers. The aim is to tackle on-the-move offenders whom conventional static speed cameras simply can't spot.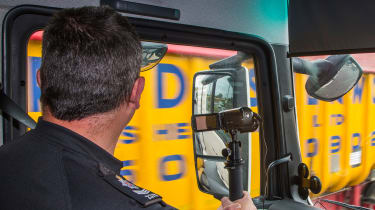 The Highways Agency has paid MAN Trucks for the hire of the unmarked heavy goods vehicle lorry cab, which will be rotated between the 45 police forces in England. Officers will use the cab as a mobile observation platform to look into vehicles which are usually too high to view from the ground. 
A Highways Agency spokesman said: "The aim of extending the project to a national initiative is not revenue generation but to improve driver behaviour. " Last year's trial – which was codenamed Operation Tramline – led to the detection of 462 offences, including evidence of a driver brushing his teeth while at the wheel, another reading a newspaper in slow-moving traffic and another drinking from a beer can.
• General election 2015: who is on the side of motorists?
Professor Stephen Glaister, director of the RAC Foundation, said: "This is less an eye in the sky and more surveillance six-feet up. Rooting out bad and anti-social behaviour is important."
He continued: "Now motorists who are tempted to break the law are likely to have traffic officers peering right over their shoulders."
Results
During the pilot scheme, police stopped 436 vehicles and detected 462 offences including...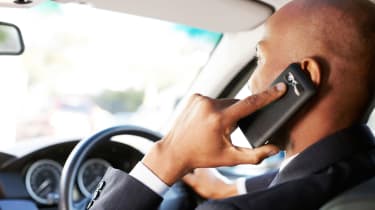 • 179 mobile phone offences• 126 seatbelt offences• 68 not being in proper control of vehicle• 18 driving without due care and attention• 17 speeding• 15 defects on vehicles• 8 stopping on hard shoulder• 7 other offences• 5 using the motorway verge• 5 having no insurance• 4 trailers being driven in offside lane• 3 dangerous or insecure loads• 2 drivers' hours offences• 2 overweight vehicles• 1 contravening motorway lane restrictions• 1 contravening red traffic lights• 1 driving on hard shoulder
Do you think this new scheme is a good idea? Let us know in the comments below...