False whiplash claims are wasting NHS time
GPs are reporting more and more suspect patients, with up to one million hours wasted on these fraudsters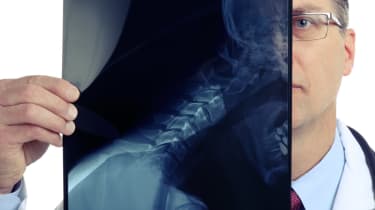 The NHS is being put under increasing strain as doctors waste valuable hours on fraudsters with false whiplash claims.
That's according to a study by insurance company LV, which reveals that doctors believe they are seeing people that they suspect of feigning or exaggerating injuries in order to claim compensation following a car accident.
And the problem only appears to be getting worse, with 43 per cent of GPs saying that they now see these types of cases on a frequent basis - compared to just 26 per cent in 2012.
• 128mph in a 30mph zone! UK's worst speeders revealed
It's estimated that doctors are collectively seeing around 116,000 suspect cases a month, which is taking up to close to one million surgery hours a year.
GPs reported that seeing these people is taking away valuable appointments from genuine patients, and that they end up wasting additional surgery time dealing with law firms and claims companies pestering them for paperwork.
While seeing patients with whiplash claims, more than half of doctors (52 per cent) said that they had been put under pressure into agreeing with the patient about their condition even when they had doubts about their injuries.
• Doctors named as Britain's worst drivers
Martin Milliner, LV's Claims Director, comments: "Verifying personal injury claims takes up a lot of time and places unnecessary pressure on our already stretched health service. The cost of dealing with fraudulent claims not only pushes up the cost of car insurance for honest motorists but it also hurts the public purse.
"While insurers, working with government, have made good progress in the crackdown on fraud, it appears that fraudsters are trying new tactics to beat the system and claim compensation they are not entitled to. The regulators must do more to deal with the professional enablers that continue to support the whiplash gravy train."
Now read our guide to Cat D and Cat C cars.