Car makers struggle to meet Euro 6 emissions targets
Less than a year before 'real world' emissions tests arrive, some cars have been found to pollute up to 15 times the legal Euro 6 limit
With less than a year until new, real-world emissions tests replace the current laboratory tests, a new study has found that some cars pollute over 15 times the current Euro 6 emissions limits for nitrogen oxides under real world driving. And all manufacturers are struggling to hit Euro 6 standards on the road.
From 1 September 2017 all new cars will have to undergo a real world emissions test to obtain EU type approval. The real driving emissions (RDE) test will use a portable emissions system to record real-world NOx and particle matter (PM) pollutants.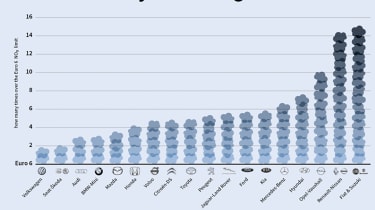 • Best low emissions green cars on sale now
But the study into diesel emissions by environmental campaign group Transport & Environment found that carmakers will struggle to meet the current Euro 6 NOx targets under real-world test conditions.
The figures reveal that diesel versions of the Fiat 500X from Fiat and Suzuki pollute up to 15 times over the current legal limit for NOx. Incidentally, Volkswagen, which has been embroiled in an ongoing emissions scandal with its old Euro 5 diesel engines, was found to pollute twice over the legal limit with its new Euro 6 diesel in the Volkswagen Polo 1.4 TDI - the lowest result of all the cars from 26 manufacturers that were tested.
Car industry obtains loopholes to pollute more under new real world tests
The industry has previously admitted it can't meet the 2020 diesel pollution targets, and has since been granted "conformity factors" by the European Commission that allow them to pollute over twice the current Euro 6 emissions limits in new emissions tests.
Between 2017 and 2019, new cars will be allowed to pollute up to 2.1 times the current Euro 6 limit, reduced to 1.5 times above the existing limit between 2019 and 2021. Car manufacturers have said the conformity factors are needed to take into account the margin of error in measuring real-world emissions, while also allowing them more time to meet the technical challenges the new regulations demand.
• How to test cars for real-world mpg and emissions
Julia Poliscanova, clean vehicles officer for Transport & Environment told Auto Express : "It's simply unacceptable that instead of concentrating on fitting the right technology and meeting the standard on the road, the industry is still busy weakening the law so it can concentrate on manipulating the tests instead."
What do you think of the car makers asking for more flexibility on Euro6 standards? Let us know in the comments section below...