How to check any car's mileage and MoT history online
A Government website allows users to find the entire MoT history of any vehicle plus other details free of charge
It's vital to know the history of any car you're thinking of buying, and it can be a huge factor when deciding whether or not to go through with a deal. To make life easier, the Government has set up a website which enables you to check the MoT and mileage history of any car simply by entering the make and registration number into a search tool. Better still, the service is free to use.
The site gives detailed information of the car's previous MoT results, providing the dates of all previous tests, the MoT test number, the mileage on the odometer when it was tested, and most importantly whether or not the car actually passed.
• Used car buying: the ultimate guide
If the car has failed an MoT at any point in its life, the site will even tell users what the reasons were for the failure. Advisory notices such as worn tyres, worn brake pads, or corrosion are also noted. By checking the car's MoT past and mileage intervals between check-ups, you may be able to tell if the seller is hiding any lingering faults, and also sniff out any signs of car clocking.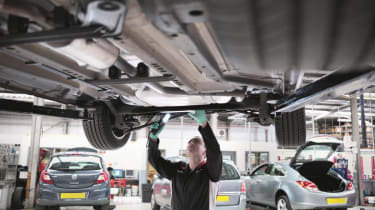 And for those needing to know when the roadworthiness of a car will need testing again, the website will also tell you when the latest MoT certificate runs out.
The DVSA has also rolled out another site that allows users to see further details about any registered car. This service allows users to see when the vehicle was first registered, what it's CO2 emissions are, the tax band it sits in and when the next tax payment is due.
• Check the MOT history of any car here
While the UK's MoT reforms have divided opinion in recent years, the moves towards greater transparency are undeniably a step in the right direction, as any used car buyer will greatly benefit from the use of both websites. 
MoT checker: step-by-step guide
Follow this link to the Government's MoT history checker website
Click 'Start now'
Type in the registration number of the car you wish to find out about
Next, you will be greeted by a page displaying all the MoT information about the car going right back until MoT records began 
Taking your car to an MoT? Make sure it passes at the first time of asking by running through our MoT checklist...