SMMT calls on George Osborne to back car industry
Ahead of Spending Review, car industry group wants Chancellor to continue automotive investment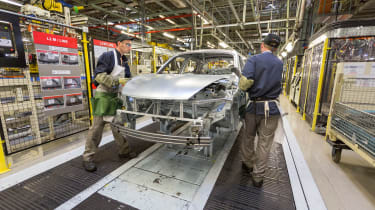 The car industry is calling on the Government to continue to back the automotive business in the Chancellor's spending review on 25 November.
The president of the Society of Motor Manufacturers and Traders (SMMT), Gareth Jones, wants George Osborne to commit to maintaining investment in the automotive sector to help the industry to continue to flourish as it had done since the recession.
• VW emissions scandal: recalls, compensation & 3.0-litre TDIs affected
The SMMT pointed to the industry's impressive performance in 2015 with the domestic new car market now the second largest in Europe, manufacturing output on the rise, employment at its highest level since 2008 and the sector's annual economic contribution at a record-high of £15.5 billion.
There are still challenges the industry faces, though, with a referendum on EU membership on the horizon at the top of the SMMT's priority list.
There's also a potential skills shortage and the threat of cuts to Government departments that help small business enter the market.
• Drivers told to take care in lethal month on roads
At the SMMT's 99th annual dinner, on the eve of the Chancellor's Spending Review and Autumn Statement, Jones said: "So much has already been invested successfully and to pull the rug away now would be a devastating waste. We have shown Britain has what it takes to be a manufacturing powerhouse again.
"But we can't do it alone. So we say to government: Create the conditions that allow us to develop the quality products for which we are world-renowned. Back us to create the jobs, economic growth and prosperity that Britain needs.
"We have shown we can deliver; work with us to make sure that success continues."
Now read more about the 2015 Autumn Statement.