RAC to use telematics data to predict breakdowns
Breakdown service will mix tech with its diagnostics data to predict when cars will develop faults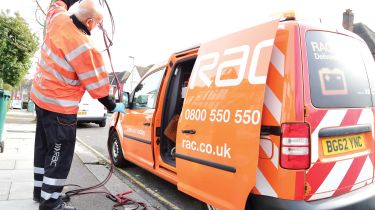 A crystal ball advanced warning system currently under development will be able to alert you of a breakdown before it happens. The RAC is working on a service to combine telematics with historical breakdown data to predict the most likely faults with cars and advise drivers before they cause a problem. 
The predictive technology is around a year away according to Nick Walker, managing director of RAC Telematics, and would use the firm's extensive records to identify issues early on.
"We're getting to the point where we're able to predict faults," said Walker. "We can warn people, for example, when a diesel particulate filter is about to clog."
• New measures aim to tackle car insurance fraud
The RAC attends nearly 2.5 million roadside breakdowns per year and has a database going back years with tens of millions of records. Walker added: "Our data tells you the top three things likely to go wrong with a vehicle type, make and model of a certain year and mileage. We're normally right because we see it all the time. 
"If you add the ability to electronically diagnose and look for fault codes, which we do with every breakdown, then feed it with live telematics data and diagnostic codes, all of a sudden you're able to extract from that level of history what's likely to happen to that vehicle over time."
This month, rival breakdown giant the AA launched a similar service known as Intelematics Europe, which can remotely diagnose the cause of a breakdown before a recovery vehicle arrives.
• Far eastern brands top new car reliability ratings
This style of predictive data tech the RAC is working on is already up and running in areas such as traffic and route planning, and is set to increase as connected cars grow in popularity. Mapping company HERE uses similar data to shorten route times.
Floris van de Klashorst, vice president of connected driving at HERE, told us: "A Monday morning on 4 July in the US is totally different to a normal Monday morning. You can predict that there will be more traffic based on more sophisticated factors – real-time weather, ice on the road, traffic hotspots, sporting events and so on."
Will the RAC be able to predict the future? Let us know in the comments below!