UK motorists warned over counterfeit airbags
Hundreds of UK motorists are being asked to contact their dealer after news of counterfeit airbags sold on the internet emerged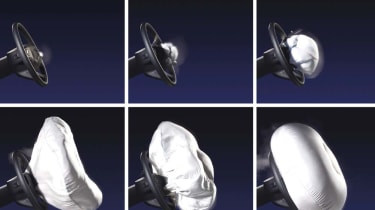 Hundreds of UK car owners who bought airbags on the internet are being told to have their vehicle checked, after police arrested a man selling counterfeit airbags on eBay.
Following a tip from Honda Motor Europe and the Intellectual Property Office, who identified that the counterfeit airbags were being sold online, the City of London Police launched an investigation. The police have since arrested a man in Dorset for the offence.
According to factory analysis, the airbags would not deploy as genuine airbags would on collision, proving dangerous for car occupants in the event of an accident.
The police have contacted 680 individuals and businesses over the matter, and it is believed 148 people purchased faulty Honda CR-V and Accord airbags from the rogue seller. The police are still investigating the remaining 532 purchases; it remains unclear whether motorists also purchased other faulty vehicle parts. 
According to the City of London Police, the faulty Honda airbags have been on sale since September 2013 for approximately £170 – roughly half the cost of a genuine airbag. In 2013, similar news in the US forced thousands of motorists to have their vehicle checked. 
Superintendent Maria Woodall, of the City of London Police, said: "With the safety of the public being our primary focus in this investigation, we are urging anyone who has concerns about a possible counterfeit car part they may have to contact their nearest authorised car dealer. They will have the expertise to examine the vehicle and determine if it is safe and roadworthy."
Philip Crossman, managing director of Honda Motor Europe's UK subsidiary, said: "The safety of customers is of paramount importance, and we aim to eliminate counterfeiting. 
"We strongly recommend any modification to the airbag systems of our cars be undertaken by a trained technician in an official dealership. If customers are concerned, they should visit their local dealership."
Have you recently bought aftermarket car parts online? Tell us in the comments below...