Car makers want taxpayers to pay £600bn bill for eco roads
Leaked document exposes manufacturers' plans to reduce CO2 emissions with low resistance roads paid for through tax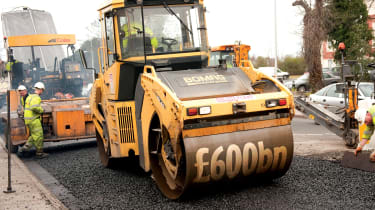 A leaked report, seen by Auto Express, shows that the European car industry wants taxpayers to foot a £600billion road improvement bill in a bid to reduce CO2 emissions.
The proposal is part of a draft paper from the European Automotive Manufacturers' Association (ACEA), due to be released next month. It argues that car makers are doing all they can to meet the 2021 vehicle emissions target of 95g/km of CO2, but to meet later and more stringent targets in 2030, Government involvement is needed.
Resurfacing the roads of all 28 member states should be a priority, according to the ACEA. The report states: "One of the key drivers for reducing CO2 emissions is ensuring Europe's roads have low-resistance and well maintained surfaces." 
• Car emissions retesting will cost taxpayers £650,000
The ACEA is keen to fund the project via public investment, with £600billion spread across 20 years. If all of Europe's roads were resurfaced with low-friction surfaces, there would be CO2 reductions of "up to five per cent [compared to 2015] by 2035".
The continent as a whole would pay roughly £30billion a year to achieve these figures. However, countries like the UK, which has a 13-year backlog of road repairs, would undoubtedly have to fork out more. The ACEA estimates the UK would need a one-time catch-up investment of £12billion. Green transport agencies have hit back against the ACEA's claims, calling them "out of touch with reality". 
• Unmanned roadworks could earn £5,000 a day in fines
Carlos Calvo Ambel, transport and energy analyst at campaign group Transport & Environment, said: "The problem is not that our roads aren't good enough, we don't drive efficiently or that we can't find parking fast enough – car makers simply don't want to clean up their vehicles, and instead, are shifting the responsibility on to everyone else. Fuel efficiency standards will force the next wave of cleaner vehicles."
What do you think about the plans? Let us know below...