Budget 2016: Fuel duty frozen for sixth year in a row
Freeze on fuel duty but Insurance Premium Tax raised by George Osborne in his March 16 Budget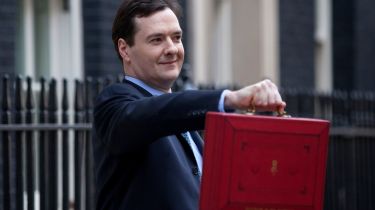 Fuel duty will be frozen for the sixth year in a row as Chancelllor George Osborne delivered his 2016 Budget in the House of Commons.
A inflation-based rise had been pencilled in but Osborne pledged to save the average driver £75 a year and small business drivers £270 a year by freezing tax on petrol and diesels.
He said: "It's the tax boost that keeps Britain on the move. Working families should not be penalised when oil prices fall. We are the party for working people."
Osborne's handouts for motorists by freezing fuel duty has saved drivers 18 pence-per-litre in comparison to the previous Government. However, the Chancellor already takes 74 per cent from the price of diesel - the highest since 2004 - and fuel duty, including petrol, totalled £27.4billion in 2015.
• UK diesel and petrol prices explained
Chancellor Osborne delivered his budget for "the next generation" and pledged to "act now rather than pay later" and as expected, raised Insurance Premium Tax (IPT) for the second time in a row. In his Autumn Statement in November, IPT was hiked from six per cent to 9.5 per cent and this time it'll increase by just 0.5 per cent to 10 per cent with the extra £700 million raised being spent exclusively on flood defences.
Although a relatively small increase, the rise will hit consumers with the extra costs to insurers likely passed on via higher car insurance premiums. Breakdown cover will also rise.
Osborne also targeted his "northern powerhouse" plan with a new four lane section of the M62 announced alongside a tunnel from Manchester to Sheffield and upgrades to the A66 and A69. By 2018, the price of the Severn Crossing into Wales will be halved, too.
• Council reclassifies potholes to swerve repair bills
Driverless cars were also given backing in the official Budget documents with the Government promising to make the UK a global centre for excellence in connected and autonomous vehicles.
It has committed to conduct trials of driverless cars on the strategic road network by 2017 and consult this summer on sweeping away regulatory barriers to enable autonomous vehicles on England's major roads. It will also establish a £15 million 'connected corridor' from London to Dover to enable vehicles to communicate wirelessly with infrastructure and potentially other vehicles.
Reaction: What the industry says
RAC chief engineer David Bizley said motorists will be relieved the Chancellor has not used low fuel prices as an opportunity to raise duty on petrol and diesel to help reduce the deficit. He added: "But, with the Government's own evidence showing that lower fuel prices are good for the economy, we are disappointed Mr Osborne didn't make a longer-term commitment to freeze duty beyond next year's Budget. This would have been the ideal opportunity for the Chancellor to freeze fuel duty for the life of this Parliament and improve his already good record on fuel duty."
The British Insurance Brokers' Association (BIBA) said it is astonished the Chancellor decided a further increase in IPT is required to strengthen the nations flood defences and said year-on-year insurance buyers face a tax increase of 66.6 per cent since March 2015. An AA survey said 87 per cent of motorists believe the tax to be unfair and an encouragement to drive without insurance.
Steve White, BIBA CEO, said: "Let's be clear about this, IPT is a tax collected and remitted by insurers, it is a tax on premiums paid by policyholders –motorists, householders, and businesses large and small. Whilst we support the additional spending on flood defences we believe that this could have been funded by the projected £1.5bn annual funds paid to the exchequer as a result in the increase in IPT put in place only last November which puts an increased burden on policyholders many of whom are suffering from ongoing flood damage."
Steve Gooding, director of the RAC Foundation, said: "Transport is the biggest area of household expenditure bar none, but 38 million drivers will be relieved it didn't just get bigger still. And the Chancellor will hardly be out of pocket. As it stands, tax on petrol and diesel still accounts for about 75% of the pump price and Mr Osborne remains on course to collect more than £27 billion in fuel duty alone next year."
Paul Willcox, Chairman of Nissan Europe, said the decision to continue backing for driverless cars was in line with future Nissan plans. He added: "At Nissan we are committed to pursuing a goal of zero emission vehicles and zero fatalities on the road. Autonomous drive technologies will play a major role in achieving this goal and the measures announced today by the Chancellor will help the UK to pave the way in bringing these new technologies to market.
"We are particularly excited to debut the first phase of our autonomous driving technology, 'Piloted Drive 1.0', on the Nissan Qashqai in 2017."
What do you think of the 2016 budget? Let us know in the comments section below...