Birmingham tops list of UK crash for cash hot spots for the second year running
Last year saw over 3,000 fraudulent crash for cash claims being made, with insurers detecting one every three hours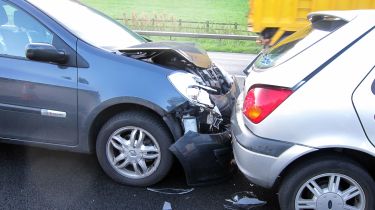 For the second year running, Birmingham has taken the unwanted top spot in the league table of 'crash for cash' insurance fraud hot spots.
The table, compiled by the Insurance Fraud Bureau, lists Birmingham as the top crash for cash location in the UK in 2017, with ten of the top 30 postcodes being based in Birmingham. Although the Government introduced new measures to tackle insurance fraud last year, motor insurers across the UK still detect a fraudulent claim being made every three hours.
Figures from the Insurance Fraud Bureau suggest crash for cash schemes cost UK insurance providers £336million a year, with whiplash claims adding another £2billion a year to the bill. Because of false whiplash claims, honest drivers involved in the crash are also expected to cough up more, with innocent motorists paying on average an additional £90 on their insurance premium.
• Car clocking: is mileage correction legal
The better news is that the number of staged accidents – where two damaged cars are brought together in order to trick authorities in believing an accident occurred – has fallen by 40 per cent, largely thanks to new fraud prevention tools used by insurers like Aviva.
Tom Gardiner, Head of Fraud, Aviva, said: "We remain very concerned that fraudsters continue to put their own greed ahead of innocent motorists' safety. Our figures show induced accidents now account for nearly half of all organised motor fraud we detect.
"Crash for cash does not just push up premiums for genuine customers, it puts innocent motorists at risk. It is also a significant drain on scarce public resources such as ambulance, police and A&E time, all of which are wasted on these entirely bogus claims. The number of whiplash claims is a problem unique to the UK and needs urgent reform."
| | |
| --- | --- |
| 2017 Top 10 Crash for Cash locations | Postcode |
| 1. Birmingham | B8 |
| 2. Birmingham | B6 |
| 3. Birmingham | B10 |
| 3. Bradford | BD9 |
| 5. Bradford | BD8 |
| 6. Manchester | M8 |
| 7. Bradford | BD3 |
| 8. Birmingham | B25 |
| 9. Oldham | OL8 |
| 10. Birmingham | B11 |
Source: Insurance Fraud Bureau
Have you ever witnessed a crash-for-cash fraud taking place? Tell us in the comments below...