Delays increase on motorways and A roads
Average delay on motorways and dual carriageways in England rose by 3.9 per cent to 9.4 seconds per vehicle per mile last year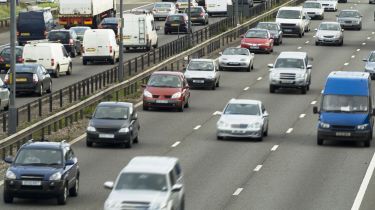 Motorists suffered a 3.9 per cent increase in delays on motorways and major A roads in 2018, new figures have revealed.
The average delay to a journey on Highways England's Strategic Road Network (SRN) last year was 9.4 seconds per vehicle per mile – compared with 9.0 seconds in 2017 – if the vehicle was able to travel at the speed limit, according to the latest data from the Department for Transport (DfT).
• £2,500 fines for roadworks to cut congestion
The DfT's Planning Time Index says that, on paper, a journey of 60 miles on 60mph roads should take an hour without traffic, but with the congestion levels in 2018, such a journey would take 68.4 per cent longer than that. This figure is 0.7 percentage points higher than in 2017.
In addition, average speed on the SRN was 59.0mph in 2018 – down 0.6 per cent on the previous year's 59.4mph.
The average delay on the SRN was shown to be slightly higher when the clocks go back at the end of October and slightly lower then they go forward again in April. The average delay also saw a spike in March 2018 as a result of the poor weather.
As for local A roads, the average delay went up 0.8 per cent year-on-year to 47.3 seconds per vehicle per mile, while average speed was up 1.3 per cent to 24.9mph.
RAC head of roads policy Nicholas Lyes said: "More congestion means more wasted time and money, which is clearly bad news for drivers, but it may be a case of short-term pain for longer term gain.
• New AIR Index system launches
"Much work is being carried out on our motorways to improve capacity by upgrading them to smart motorways, but this inevitably causes delays.
"Nonetheless, extra capacity is badly needed as Britain now has around 38m vehicles registered for use, and in the 10 years from 2007 more than four million extra vehicles came on to the road – that's a 12 per cent increase."
It follows news that traffic jams cost the UK £7.9bn in 2018 – an average of £1,317 per driver.
What do you think of the motorway and A road network in England? Let us know below...