Nearly half of UK motorists give their car keys to strangers
With car thefts up eight per cent in the last year, 43% of motorists say they've left car keys with people they don't know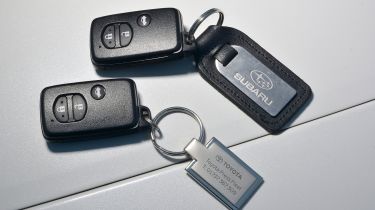 Despite reported incidents of car thefts rising by eight per cent in the last year, a new study has found nearly half of British drivers leave their car keys with a stranger at least once every year.
Of the 43 per cent of car owners who admitted to handing their keys to someone they don't know, a further 71 per cent failed to check whether any companies or individuals they left in charge of their car were members of an accredited code of practice or other professional standard. The research was carried out by the Society of Motor Manufacturers and Traders (SMMT) in conjunction with the Home Office, Metropolitan Police Service, and Thatcham Research.
• UK dangerous driving laws to get tougher, hints PM
By way of comparison, the survey also showed that just 11 per cent said they had left their house keys with a stranger. Even while at home motorists were found to make car security mistakes, as many said they left their keys in clear view from windows or the front door. 
Although car theft has come down from its peak in 1990, when up to 620,000 vehicles were stolen in a year, to below 80,000 last year - the latest figures show an eight per cent year-on-year spike in reported incidents. The overall fall in vehicle thefts is largely attributed to better safety systems on new cars. 
• UK car sales continue to grow in August
Sarah Newton, Minister for Safeguarding, Vulnerability and Countering Extremism, said: "With thefts significantly lower than they were 20 years ago and manufacturers using the latest technology to make our cars safer than ever, the public would be forgiven for putting vehicle crime to the back of their minds. But the recent rise in the number of reported crimes is a reminder that determined thieves are still out there and we should remain vigilant.
Mike Hawes, chief executive of the SMMT, said: "Technology can only do so much, however, and while car makers, the police and government continue to work together to ensure that stealing cars is as difficult as possible, these latest figures show there's more consumers can do to minimise risk."
Have you left your car keys with a stranger before? Tell us in the comments below...