UK car production hits 17-year high but investment is falling
SMMT figures reveal UK is on course to beat the all-time record for car manufacturing but Brexit threats loom large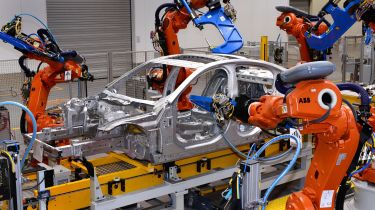 British car manufacturing has hit a 17-year high as it stays on track to reach an all-time record by the end of the decade, despite threats from Brexit trade negotiations.
Driven by exports to more than 160 countries worldwide, UK plants produced 1,722,698 vehicles in 2016 - the most since 1999 and up 8.5 per cent on 2015 - according to figures from the SMMT.
With Jaguar Land Rover bolstering its line-up built in the UK combined with the continued success of the Ellesmore Port-made Vauxhall Astra and Nissan's Sunderland factory, the UK is predicted to beat the 1972 record and breach two million vehicles produced in 2020.
That's despite the continued threat of tariffs on trade which has seen investment in the automotive sector drop by almost £1 billion in 2016. The year before, £2.5 billion was committed but that was down to £1.6 billion last year.
SMMT chief executive Mike Hawes admitted this was down to uncertainty caused by the Brexit vote but said commitments on product cycles already made would help the UK automotive sector continue to grow in the short term.
But he added: "It's slightly worrying investment is down, we're keeping an eye on it. We do see companies at least delaying investment decisions until there is greater certainty."
80% of UK-built cars are for export
The UK exports 80 per cent of vehicles produced in the country with the EU accounting for more than half. The US makes up 14.5 per cent of exports and grew by almost half last year bit this market in the US could also be under threat given the election of President Donald Trump.
Hawes said: "We want to know what happens across the pond, the US is a critical market and we need a global outlook. We will grow and trade internationally."
One potential opportunity from Brexit, according to Hawes, is that if manufacturers do stay, the homegrown supply chain may increase to meet rules of origin requirements.
• Can you trust UK new car sales figures?
Currently 60 per cent of car parts are imported and parts made in the EU count towards the tally on a UK-made car. If the UK has to go it alone, more part factories would be needed to meet targets.
And it's estimated around £4 billion-worth of parts - such as alloy wheels - currently made outside the UK could be manufactured here without any requirement for extra skills or expertise.
Hawes said: "There's a threat to the industry if we do not reach the rules of origins threshold. The local supply chain could be boosted but you need the manufacturers here in the first place."
What do you think the future holds for UK car manufacturing? Let us know in the comments section below...