Brexit results in less investment in UK car industry, says SMMT
Motor industry trade body the SMMT predicts less investment by automotive companies in the UK due to uncertainty associated with Brexit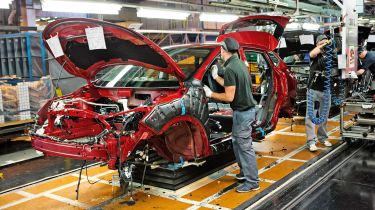 The uncertainty associated with Brexit is causing less investment in the UK automotive industry, the industry trade body, the Society of Motor Manufacturers and Traders has said.
Speaking to the Treasury Committee, SMMT chief executive Mike Hawes said investment is likely to fall this year. "We are putting together the data as best we can. But I sense certainly that the amount invested over the last 12 months will not be as high as the preceding one, two, three years."
• Best selling cars to buy now
According to the SMMT 2016 Automotive Sustainability report, the automotive industry invested £2.5 billion into research and development in 2015, up 8.7 per cent from the previous year.
The SMMT previously reported that last year was a new record year for car registrations, with nearly 2.7 million new cars registered. It has since voiced its concerns that new car registrations will probably drop by 5 to 6 per cent this year.
• UK car prices could rise by £1,500 post-Brexit
Hawes said that until the UK's future trade agreements become more clear, automotive companies are less willing to invest. "Certianly, I believe that companies are at least sitting on their hands…until there is a bit more clarity."
To provide some direction to the UK's outlook post-Brexit, Prime Minister Theresa May recently announced a new modern Industrial Strategy. She pledged the Government will invest £4.7 billion by 2021 into R&D to help UK retain its competitiveness once out of the EU, alongside investments into transport infrastructure, and higher education.
Not all carmakers have frozen investments, though. Nissan and Aston Martin recently announced plans to build new cars in the UK. Nissan plans to increase output at its Sunderland site after confirming the site will build the new Qashqai and X-Trail. Aston Martin recently confirmed it will build its new DBX crossover at St Athans, Wales.
• Aston Martin's amazing rebirth
However, Hawes believes that more assurances from the Government will be needed if companies were to commit to invest in the UK. "If the Government can give some sort of assurance that it will be looking over those sort of timescales to give as much certainty as it can give in certain times, that will be much better received."
What will be the outlook of the UK's automotive industry after Brexit? Tell us your thoughts in the comments below...