UK car manufacturing numbers plummet by nearly a fifth in April
Latest car building figures show a 18.2% fall in output, with the SMMT partially blaming the Easter holidays for the drop in production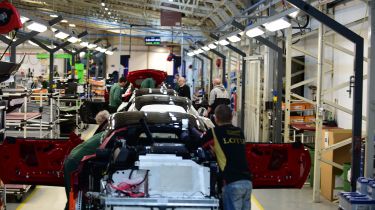 UK's car production plummeted by nearly a fifth in April, with the slump partially blamed on the Easter holidays.
According to the latest figures by the Society of Motor Manufacturers and Traders, the late Easter bank holiday in April affected production. Output fell by 18.2 per cent this April, compared to the same time last year. April wasn't just a bad month for vehicle production, with registrations down by nearly 20 per cent for the month, too.
Last month saw 122,116 cars built in the UK, down by 27,208 from April 2016. Despite April's fall in output, overall production for the year is up by one per cent. Since January this year, 593,739 vehicles have been built in the UK.
According to the SMMT, overseas demand has been the main driver of growth, with domestic output down by seven per cent compared to last year. Currently, 78.6 per cent of cars built in the UK are shipped abroad, mainly to the EU, with exports up by two per cent from last year.
Mike Hawes, SMMT chief executive said: "Car production fell significantly in April due to the later Easter bank holiday weekend which reduced the number of active production days that month and also due to unplanned production adjustments.
"Overall, British car manufacturing remains in good health with the production outlook still very positive and significant new models due to go into UK production shortly. "
"To guarantee future growth and investment into our industry and its vital supply chain, however, we need the next government to safeguard the conditions that have made us globally competitive, keeping us open and trading and delivering an ambitious industrial strategy for our sector."
What do you think of the manufacturing results? Tell us your thoughts in the comments below...