New Samsung electric car battery gets 310-mile range from 20-minute charge
New fast charging, long range battery tech from Samsung will be ready for production EVs in 2021.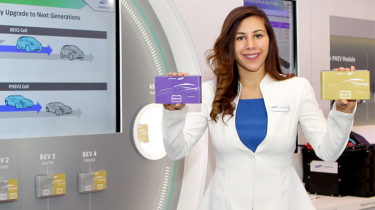 Alongside the world's top automakers, technology giant Samsung has been present at this year's Detroit Motor Show - the South Korean company has used Detroit to showcase some next generation electric vehicle battery technology.
A next generation high-density battery cell has been revealed by the company and it's claimed that it would give an electric car a theoretical range of 373 miles.
However, what's more important about the new cell is how quickly it can be recharged. The high density battery is designed to be recharged to 80 per cent in 20 minutes, meaning drivers will be able to top up their EVs with over 310 miles of range in the time it takes for a quick refreshment break by the roadside.
At the moment, a Tesla can be recharged with 170 miles of range with a 30-minute blast on a Supercharger station. No doubt, that's a charge time Tesla will try to improve on over the coming years given that Samsung says its new technology will be ready for mass production EVs in 2021.
By placing a strong emphasis on how quickly the battery can be replenished rather than simply chasing a huge maximum range, Samsung believes it can accelerate the adoption of electric vehicles in the near future by improving user convenience.
Alongside the rapid charging battery tech, Samsung also revealed an "integrated battery module" concept, boasting a larger capacity with fewer parts than a conventional EV battery module. The firm showed more battery tech too, in the shape of an improved "21700" cylindrical battery – a shotgun shell shaped battery quickly being adopted by many EV start ups such as Lucid Motors.
Will charge time be more important than maximum range on the electric vehicles of the future? Let us know your thoughts below...