We drive the Tesla Supercharger superhighway
We plug in a Tesla Model S to go from London to Birmingham and back using new Supercharger stations
I've just completed a round trip from Central London to Central Birmingham in five hours. That's not particularly remarkable, but when you consider I did the 234-mile journey in supreme comfort in a zero-emissions electric car, it starts to sound a lot more impressive.
It was made all the more extraordinary because, less than two years ago, I attempted the same round trip in a Nissan Leaf, using public chargers along the way, and it took over 15 hours. That wasn't a reflection of the Leaf's shortcomings – although its short range didn't help – but more the fact that the fast charger infrastructure was in disarray.
So what's changed? In a word, Tesla. The US brand's Model S saloon is now on sale here (although there's a four-month waiting list for right-hand-drive cars) and with a quoted range of 312 miles it's making journeys possible that were once out of an EV's reach. But as we've said all along, the public is only likely to warm to electric vehicles when charging them is as easy as topping up with unleaded. Tesla thinks it holds the key.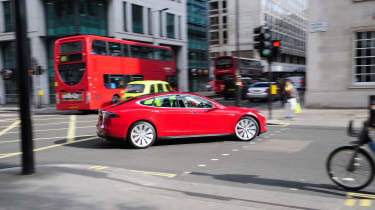 Its Supercharger stations are free to use for Tesla owners, and by using a hugely powerful 120kW DC supply they can take the Model S from empty to 50 per cent in just 20 minutes, or to 80 per cent in 40 minutes. Restoring the car to full capacity from a 7.5kW home charging box (installed by companies including British Gas for around £100) takes 12-14 hours, while with a household plug (really only a last resort) you're looking at 30 hours to replenish the cells.
The 120kW DC supply only works with the Model S for now, but Tesla has said that if rivals build electric cars that can handle this current, it will help develop an adapter – so long as these makers agree to let their customers use the Supercharger network for free, too. 
• Best electric cars on the market 
The reason for our cross-country road trip is the official opening of two new inner city Supercharger stations (Hong Kong is the only other city to have a Supercharger station). The UK's first station is already open at the Siemens building in London's Docklands, while the two new sites – at the Hyatt Regency hotel in Central London and the Hyatt Regency in Birmingham – will bookend our journey.
And this is only the start. Tesla has big plans for the UK, with an R&D centre in the pipeline, plus when total production passes 500,000 cars, it could establish a factory here, too. Tesla founder Elon Musk has said we'll start to see Supercharger stations cropping up everywhere. "If you were to order a Model S today, by the time it arrives we'll have the whole of the south of England covered by Superchargers," he revealed.
By the end of next year, the plan is to have the entire UK covered by the Supercharger network. Before that, in six months' time, the UK's Supercharger network will be hooked up with the rest of Europe, so you'll be able to cross the Channel and drive to the South of France, for example, or to the Alps for a skiing trip, without spending a penny on petrol.
UK supercharger network road map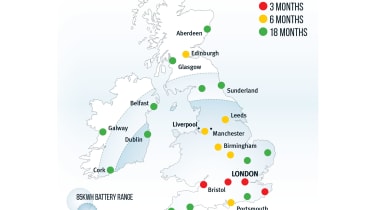 Our map and key show how Tesla plans to roll out its hi-tech Supercharger network in the UK and Ireland over the next 18 months. Expansion will go hand-in-hand with 2017 launch of 3 Series-rivalling Model III, opening up the brand to a new market.
Partnership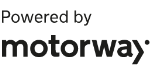 Need to sell your car?
Find your best offer from over 5,000+ dealers. It's that easy.
Given its bold expansion plans and pioneering technology, it's easy to see why Tesla is the brand everyone is talking about, from California to Cardiff. In fact, when we broke the world exclusive story that a smaller, more affordable Tesla saloon, due in 2017, would be called the Model III, overnight it became the most-read story on Auto Express online ever.
While driving from London to Birmingham and back in just a few hours is a new experience in an electric car, the Model S should be familiar by now. Once you've deducted the £5,000 Government grant, prices range from £49,900 up to £68,700 for the flagship P85 performance version we were driving, but while it's not cheap, the on-board tech puts the Starship Enterprise to shame. 
And with 410bhp and 630Nm from the rear-mounted electric motor, the Model S does 0-62mph in 4.2 seconds – that's Porsche Panamera Turbo pace. But not even the Porsche can match the tech geek appeal of the 17-inch central touchscreen that looks and feels way ahead of its time.
A feature of our long-range Leaf drive in 2012 was that we had to crawl along at 50mph so as not to drain the battery too quickly, plus we couldn't even have the heater on for fear of using up too much juice. With the Model S, it's not even a consideration.
After topping up in one of the two new Supercharger bays in the Hyatt's Central London underground car park and creeping silently and smoothly through the capital's traffic, we hit the M1 and ease up to 70mph.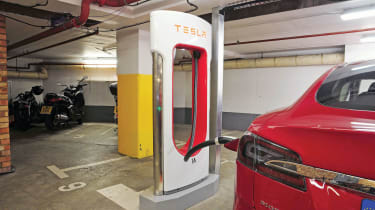 We've talked about the Model S's explosive performance and superb refinement in the past, but the way it takes off instantly really does make it the ultimate car for overtaking, or simply an effortless cruiser depending on your mood. Meanwhile the air-con is on full blast, we have sat-nav on a screen bigger than my home PC's, let alone my iPad's, and my phone charging through the USB outlet.
After 117 stress-free miles, we arrive in Birmingham with 100 miles of range to spare. We've got through the battery reserves faster than the computer predicted, but that's no surprise at motorway speeds – the 312-mile range is calculated at a constant 55mph. Incidentally, a very patient American man holds the Model S world record, after eking out 550 miles from a single charge, travelling at 18mph.
Using the Supercharger is as easy as filling up with petrol, minus the plastic gloves. Just remove the charger from its holster, wave it near the filler cap (which opens automatically), plug in and you're charging. It's a world away from the fiddly account and card systems of other public charging points, and in just half an hour we've got more than enough juice to cover our return journey to the capital. 
Drive a Tesla and a couple of things are apparent. The first is the public enthusiasm for this low-volume US brand. We're often stopped to answer questions, pose for photos and give a guided tour of the sci-fi interior. The second is that the Model S isn't just a good effort from a start-up; it's one of the most advanced and exciting new cars on sale. 
Yes, it's pricey, but that'll change when the £30,000 Model III arrives in 2017, and by then there should be 30 or 40 Supercharger stations making every corner of the UK and Ireland accessible. 
From where I'm sitting this means Tesla's BMW 3 Series rival could be as significant as the Ford Model T – and that the long anticipated electric revolution may finally be about to happen after all.
The progress made in just two years
Our drive from London to Birmingham in a Nissan Leaf in 2012 should have been easy. New service station fast chargers at South Mimms on the M25 in Herts, Oxford on the M40 and Hopwood Park on the M42 in Worcs meant even the Leaf, with its 90-mile range, should have coped.
However, swipe card problems at South Mimms set us back 90 minutes, and the Hopwood Park charger was out of order. We went to a nearby Nissan dealer, but its charger was faulty, too. An engineer got it working, allowing us to make it to Oxford, recharge and crawl back to London – a far cry from our stress-free Tesla trip.