Tell us about your car to win £2k of prizes
The 2016 Driver Power Survey is now live and you can win £2,000 worth of prizes just by telling us about your car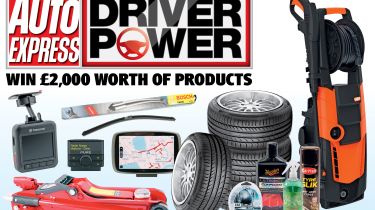 The UK's biggest and best car customer satisfaction survey is back, and this year it's set to be even bigger and better than ever before.
• Tell us about your car now
Do you love or loathe your car? Are there things about it you wish you could change or wish that the manufacturer would? Whatever make or model of car you drive, we want you to tell us all about it. We even want to know what you think of the car dealer that sold it to you.
Last year over 61,000 people took the Driver Power survey, helping fellow car buyers make the best buying decisions and telling car makers where they're going wrong. For Driver Power 2016 we're aiming for an even bigger response and we need you to help make it happen!
• Click here to see the Driver Power 2015 results
Once you've told us about your car, you'll be in with a chance of winning a very special bundle of prizes. One lucky person will win over £2,000 worth of the best car products on the market including a TomTom GO 600 sat-nav unit, a Transcend DrivePro 200 dash cam, a Pioneer DAB stereo, a set of Dunlop Sport BlueResponse tyres and much, much more.
Now in its 15th year, Driver Power is the UK's biggest and best car reliability and satisfaction survey – and by contributing to it, you are helping shape the future of new cars so get involved now...
Take part in the 2016 Driver Power survey here