Verdict on Apple CarPlay
We get hands on with new software that turns your car into an iPhone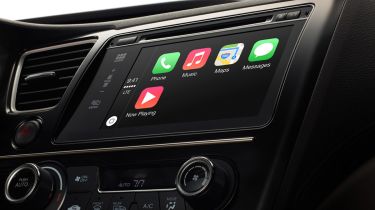 After waiting patiently for a demo of Apple's CarPlay software in a new Mercedes C-Class at the Geneva Motor Show, we're turfed out of the passenger seat because a 'VIP' is on the way. To be fair, it was Dr Zetsche, Mercedes CEO, who was desperate for a go.
"It's great, beautifully integrated. Is it a revolution? Not quite, we already had iPhone connectivity, but it's definitely the next step," Zetsche told us as he climbed out.
I'd have to disagree. Forget 'mirror link' systems that claim to mimic your phone's display in your car, this is a system developed by Apple to be as familiar as possible to anyone that's ever used an iPhone. As a result it looks, feels, sounds and operates exactly like an iPhone, just on a larger portrait screen.
The idea is you update your iOS 7 software for free, then buy a CarPlay enabled car from a variety of manufacturers beginning later this year. Plug in your iPhone 5, 5c or 5s via the USB socket and you're away.
The home screen features the same, chunky, square icons your used to - click on one and the sub menus have the same names and feel as your phone. The big difference here is that Siri voice control is at the core of the whole experience.
For example, get a message on the move and it will read it out to you as let you dictate a response. Shout out a destination and the Apple Maps app with direct you there with smooth 3D maps using the 3G or 4G connection from your phone. It even scans your latest texts and e-mail for addresses and locations to bring up suggested destinations.
Scrolling through your music folders feels as slick as you'd expect, complete with album artwork, and if you have a subscription to Spotify you can stream any song you like on the move.
OK, so you can argue that none of the features are particularly revolutionary, but the fact that anyone who owns an iPhone could soon have a beautifully integrated infotainment system in their car, complete with sat-nav, voice-control and internet connectivity most certainly is.