Kahn Flying Huntsman Concept powers in with 430bhp and six wheels
Coachbuilt Flying Huntsman 6x6 Concept will appear in Geneva, and could actually go on sale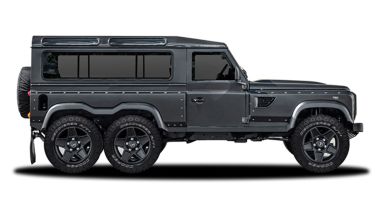 The Geneva Motor Show plays host to plenty of concept cars, and British tuning brand Kahn Design has decided to join in with its incredible Flying Huntsman 110 WB 6x6 Concept.
Kahn's latest design is based on a Land Rover Defender 110 - but as the name implies, two extra wheels have been added, making this long-wheelbase concept car into a British alternative to the Mercedes G63 AMG 6x6.
It's got the power to match, too: a 6.2-litre LS3 V8 from GM is fitted under the bonnet, producing around 430bhp. That's down a little on the Merc's 536bhp AMG V8, but there's no doubt this Flying Huntsman has plenty of shove to deal with tough terrain.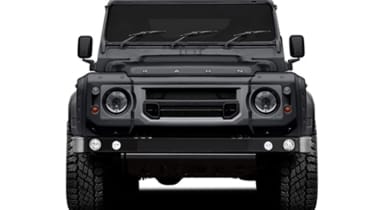 The Defender is known for its off-road ability and the Flying Huntsman is supposedly built for that too: it features a hi-lo ratio drive system with locking differentials to improve traction. The brakes and suspension has been upgraded over the standard Defender, too.
Thanks to the larger engine and extra wheels, the Huntsman concept is 1,200mm longer than a Defender 110, and 150mm wider. The doors are bigger for easier access, the windscreen is at a steeper angle and there's even a full panoramic roof from the B-pillars backwards.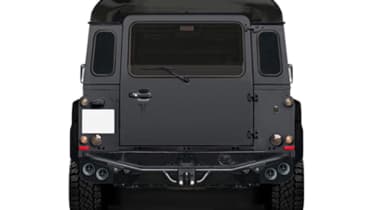 If all of that sounds good to you, but you're worried about unwanted bullets hitting your passengers, Kahn has proposed heavily-armoured variants. Plus, if six wheels sounds like two too many then there could be a standard 4x4 version as well as a pick-up truck.
It's only a 2015 Geneva Motor Show concept for now, but a production schedule is being worked out for the Kahn Flying Huntsman. More details will be revealed at the show.
Now read about all the latest concept cars at the 2015 Geneva show.