New Goodyear smart tyre monitors its own pressure and wear status
Goodyear's prototype intelligent tyre will uses cloud-based algorithms to make managing tyres far easier for fleet operators
A new generation of smart tyre, which can monitor wear, condition and tread depth, has been previewed in prototype form by Goodyear.
The company's intelligent tyre uses a series of sensors to monitor elements of the tyre's condition, sharing information with vehicle fleet operators via smartphone app.
• Tyre reviews: best car tyres 2016/2017
Launching the tyres at the Geneva Motor Show, Chris Delaney, president of Goodyear Europe, Middle East and Africa, said the prototype tyres would help fleet operators manage their vehicles' tyres better: "Tyre performance and wear information provide a real-time signal for when a tyre needs service to extend its life, fuel economy and performance attributes. This kind of proactive maintenance allows fleet operators to precisely identify and resolve tyre-related and potential service issues before they happen."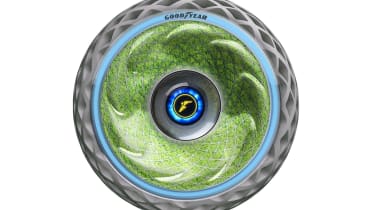 As shared mobility services – such as ride sharing and vehicle-on-demand businesses - come on stream in future years, the amount of distance covered by individual cars is expected to increase by 25 per cent within 12 years.
Goodyear also used Geneva to showcase its Oxygene concept tyre, which features living moss inside its sidewall. The Oxygene tyre (below) has been designed to absorb moisture from the road surface and take in carbon dioxide from the air, photosynthesising them to produce oxygen.
Goodyear estimates if 2.5 million cars in a city were to be outfitted with Oxygene tyres, 4,000 tonnes of carbon dioxide could be absorbed each year, and 3,000 tonnes of oxygen generated.
The Oxygene tyres would also generate electricity from photosynthesis, powering on-board sensors, artificial intelligence systems and a "customisable light strip" in the tyre's sidewall, which could change colour to alert other road users of lane changes, for example.
We previously travelled to Goodyear's Luxembourg headquarters, to investigate to work going on behind the scenes.
Tyres of the future revealed
A beat-up old diesel hatchback and a gleaming, showroom-fresh hybrid supercar. These two vehicles are worlds apart in performance, quality and price, yet they have one thing in common: tyres.
These four rubber rings represent your only, palm-sized contact with the surface upon which you're driving, and no matter how good your car, if your tyres aren't up to scratch, you're running the risk of having a serious accident. Low pressures, barely legal tread depths and cheap rubber are all issues faced by motorists, although the addition of tyre pressure-monitoring systems (TPMS), which were made mandatory from 2012, has helped to improve safety.
However, that still hasn't cured all tyre problems completely, and rubber defects rank as one of the biggest reasons for MoT failure in the UK. Despite the lack of attention afforded by drivers, tyre companies are ploughing millions into research and development to make them perform to their peak. So what has this achieved, and what will the future hold? With every part of a car becoming more connected, why not tyres, too? Perhaps we really could see someone reinvent the wheel.
To find out about the tyre revolution, Auto Express headed to Goodyear's headquarters in Colmar-Berg, Luxembourg. It's more than just a factory; it's more like Goodyear city, with 3,000 employees representing more than 50 nationalities – that's 15 per cent of the company's global workforce, with the rest based in the USA, Germany and, since 2015, China.
In Luxembourg, workers are split across a test track, production line, mould plant and innovation centre. Our focus is on the latter, which features the design studio – where the latest prototype tread patterns are penned – and the compound lab, where experts tinker with chemicals to produce the perfect mixture that combines grip, rolling resistance and durability.
Partnership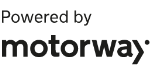 Need to sell your car?
Find your best offer from over 5,000+ dealers. It's that easy.
It's from the minds of these experts that Goodyear has produced some radical ideas. First was the BH-03, which used the heat and movement of the tyre to generate electricity – a vital step to fitting on-board electronics to relay information about the condition of both the rubber and the road. This was moved on further with the CityCube tyre, designed specifically for the Toyota iTRIL concept. It can identify road conditions and transmit this data to the vehicle to support accident-prevention systems on board.
Then there's the Eagle 360, revealed in 2016, which replaces the traditional tyre shape with a bold and innovative spherical design. It was unlike anything seen before, and for 2017 Goodyear – along with design agency Rubica – went one step further by creating an urban vehicle around the Eagle 360 tyre. The spherical tyre has a 'brain' that can morph its bionic skin into tread to suit the surface. The artificial intelligence can also allow autonomous maintenance of the tyre – and the vehicle to which they're fitted. Add in vertical and horizontal running to boost maneouvrability, and the benefits are huge.
Goodyear is keen to point out that we shouldn't start getting too far ahead of ourselves just yet, though, as these type of concepts won't actually be in production for at least another 20 to 30 years. Herman Vereecken, manager of communication strategy and deployment at the innovation centre – who's worked at Goodyear for 32 years – explained that the firm is currently working on manufacturer projects for 2018/19. These products will then have life cycles of six to seven years, so conventional tyres will still be fitted on new vehicles until at least 2025.
Vereecken said: "This is new technology beyond that. For 100 years tyres have been material and mechanical, but now we're getting an electrical dimension, and that's exciting. It's something that's a revolution in the tyre industry. Electrical components in tyres is the future."
There's no doubt, though, that the world of tyres is changing even now, just in a slightly more subtle way than having a spherical ball strapped to each corner of your car. Run-flats marked the first development of advanced technology, but now with the industry driven by lowering CO2 emissions, changes will come faster than ever.
Romain Hansen, director of technology projects, said: "We will still see vehicles that look like those that we are used to. They will use smaller tyres, and I can foresee tyres having to carry heavier loads because the vehicles of tomorrow will be heavier due to battery packs.
• Winter tyres test 2016/2017: best tyre brands and UK prices compared
"In the longer term, vehicles will look different so we can have different looking tyres. Tall and narrow at first but then ultimately the sphere."
Tyres have a huge role to play in autonomy too, with chip-in-tyre technology being developed further. Hansen continued: "If a tyre can tell the car about the road it can be very beneficial from a safety point of view. It's not only informing, it's using algorithms to create values to optimise safety and performance."
The message from Goodyear is clear – if we can't or won't look after our own tyres, then it'll make sure its systems can do it for you to make sure we're all driving around safer – no matter what the tyre might look like.
How to design and produce a tyre
You might think a tyre is a circular piece of black rubber, and wonder how much can you change that? The answer is really quite a lot. We spent time with senior industrial designer Sébastien Fontaine, who talked us through the process of bringing a new tread pattern from sketchbook to production line.
The whole journey takes around two years and starts with an inspiration wall, featuring concept cars and images of nature and other topics. From here, designers will sketch a range of tread and sidewall designs, narrowing it down to around 15. Experts and engineers will then pick four or five to continue along the process. These will then be modelled on 3D computer software, running simulations for contact patches and tread pattern effectiveness.
Prototypes will then be made of three designs and tested with a huge variety of compounds, before being fine tuned and ultimately rolled out for sale.
So what of those compounds? First of all, it's not just rubber. The ingredient list reads as follows: carbon black to give colour and work as a lubricant, natural and synthetic rubber and silica which give the balance between rolling resistance and braking balance. Changing the mix by just a few per cent can give vastly different characteristics, with each compound run through hundreds of test cycles before being formed into a tyre. The addition of sulphur to the mix is also a vital component to create the 150-degree celsius process known as vulcanization – developed by Charles Goodyear in the 1800s – which helps the rubber take shape.
The Goodyear plant can mix around 300kg of these compounds in 90 seconds, before leaving it to cure for eight minutes. The rubber is then fitted around a carcass of polyester and steel before being put in presses to mould the detailed tread.
What do you think the tyre of the future will look like? Let us know below...