Paris Motor Show 2018: all the cars and all the news
Full round-up of the Paris Motor Show 2018. All the biggest news with the best pictures and videos
Paris Motor Show 2018: location, dates and tickets
There's a lot to see at the 2018 Paris Motor Show and the information below covers everything you need to make your visit a success. You'll find details on the Paris Expo Porte de Versailles exhibition centre, dates, opening times and tickets in our handy guide...
Dates and opening times
The 2018 Mondial De L'Auto, otherwise known as the Paris Motor Show, runs from Tuesday 2 October to Sunday 14 October. The first two days were press days but now the doors are open to the public and there are various ticket types available.
The 2018 Paris Motor Show is open to the general public for 11 days in total from 10:00am to 8:00pm with a few late opening days (closing at 10:00pm) thrown in for good measure. The full details of late and early days can be seen in the table below
Early closing days (10:00am – 8:00pm)

Monday

8th

Tuesday

9th

Saturday

13th

Sunday

14th

Late opening days (10:00am – 10:00pm)

Wednesday

10th

Thursday

4th and 11th

Friday

5th and 12th

Saturday

6th
Paris Motor Show press days
As with most major motor shows the press were invited to look around the new metal in Paris prior to the general public being allowed in. The 2018 Paris Motor Show press days were 2 and 3 October and you can read all about the breaking news on the first page.
Tickets
There are a wide range of tickets available for the Paris Motor Show, ranging from the very restrictive "dated tickets" which only allow you one entrance on a predetermined day, with any exit from the exhibition centre rendering your ticket finished, to the all-singing and all-dancing "Pack Sejour", which covers everything from show entry to flights. In general, tickets for the show are very affordable with an adult day ticket from around £14. A breakdown of ticket options can be seen below.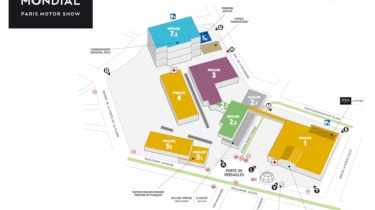 Paris Motor Show location
As usual, the Paris Motor Show 2018 is being held at the Paris Expo exhibition centre. The address is 1 Place de la Porte de Versailles, 75015 Paris. You can get there on the Metro by taking line 12 to the Porte de Versailles Station or line 8 to the Balard Station. By car, just follow the Porte de Versailles signs from the ring road.