Ford Focus ST-2 v SEAT Leon 2.0T FSI FR
FR and ST go head-to-head – but is SEAT's quick new Leon a match for our favourite hot hatchback, the Ford Focus?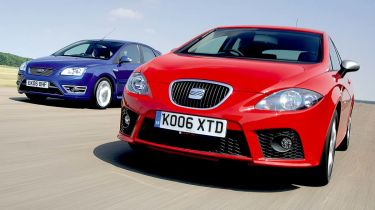 Hot hatches are regarded as 'halo' models by most makers. They pack a punch, are good to drive and look suitably aggressive – but the primary purpose of these cars is to add a bit of glamour to the range. However, this isn't the case for SEAT.
Take the last-generation Leon. The biggest seller wasn't a diesel or a base petrol variant, but the performance FR – it accounted for 40 per cent of models registered. Even though SEAT is positioned on the sporty wing of the VW Group, this is still surprising, and shows the importance the Spanish firm attaches to performance variants of its cars.
As before, there are two racy versions of the second-generation Leon: this 197bhp FR and, from January, a 238bhp Cupra. Typically for SEAT, a great-value price adds to the appeal, and the FR undercuts many rivals.
But in this test, the five-door Leon faces our favourite hot hatch: the Ford Focus ST. Pricier, but more powerful and with proven pedigree, it's the new hot SEAT's toughest possible rival.
Verdict
SEAT'S new Leon FR is a real performance bargain – fast, fun and well built. Not only does it cost considerably less to buy than the Focus ST, it's also surprisingly affordable to run.
Yet while the FR is well balanced and secure, it can't provide the same thrills as the ST – which has an unbeatable blend of an involving drive, fun and refinement. The Ford offers communicative steering, more power and a tuneful five-cylinder engine, plus compliant suspension for greater ride comfort. So the Focus wins this test – although the FR comes very close, due to its bargain price. And don't forget, SEAT's hot Leon Cupra is still to come, giving SEAT another chance to test the ST's mettle.