Family cars: diesels
Skoda has gone down the diesel route with its latest Octavia vRS, but can it outgun Ford's derv-powered Mondeo ST?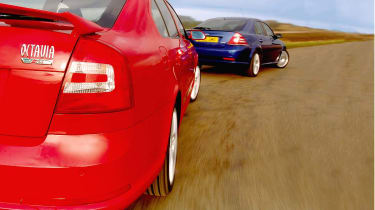 Skoda's fiery Fabia vRS caused quite a stir when it was introduced in 2003. The first hot hatch exclusively powered by diesel, it raised eyebrows as well as pulse rates. And the decision proved a canny one for the Czech marque, as the Fabia vRS was a big seller. So there's no surprise that the firm has now fitted a potent diesel in the larger Octavia vRS. The 168bhp 2.0-litre unit debuted in the VW Passat, but at Skoda it will be used exclusively by the vRS – other models make do with the low-output 138bhp version.
We're big fans of the petrol vRS – it uses the same engine as the Golf GTI and delivers great performance – so the diesel has a tough act to follow. If that wasn't enough, it also faces strong competition here from the Ford Mondeo ST TDCi.
While it may not be as new as the Octavia, a facelift in 2006 gave the family model a fresh look. And the underrated 2.2-litre 153bhp Duratorq engine is refined with plenty of punch. The Mondeo has a superb chassis, too, and will certainly prove a strong rival to the Skoda. But which is the better choice?
Verdict
Fast and frugal, the Skoda Octavia vRS TDI and Ford Mondeo ST TDCi make a lot of sense. Both look suitably sporting, and deliver strong performance – especially the Czech car. The Ford has the upper hand on comfort, refinement, handling and ride quality, while the Skoda leads the way for pace and price.
Ultimately, it's those latter two factors that swing the verdict in this test. Both are fine all-rounders, but while the Octavia vRS' 2.0-litre diesel is a bit rough and ready, we can't overlook the fact the Skoda enjoys a £4,600 price advantage. However, it's not all good news. These diesels may be sensible, but unless economy is your number one priority, neither car is as good to own and drive as its more rewarding, involving and faster petrol equivalent.