Hi-tech
We try hi-tech newcomers from Honda and Lexus to see which gives the best vision of the future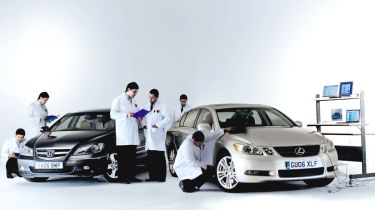 In 1960, the height of motoring luxury was the Cadillac DeVille. With air-con, electric seats and air-suspension, the US saloon was a vision of the future. Things have moved on, though, and what was cutting edge nearly 50 years ago is now commonplace. So what's hi-tech today? We've put two of the world's most advanced cars head-to-head to find out.
The Honda Legend comes laden with gadgets, including technology that keeps the car a set distance from the one in front. Then there's the Lexus GS450h petrol-electric hybrid, which also boasts adaptive headlights and a pre-crash safety system. But which one offers the best glimpse of tomorrow's motoring today?
Verdict
Automotive technology is advancing faster than ever – and it's Japanese marques who are leading the way. Ten years ago, the thought of being able to buy a car that could automatically cruise a set distance behind the one in front was far-fetched – but now, that technology is available in top production machines.
And it won't be long before it filters down to mainstream models. Honda's Advanced Driver Assist System already appears on the Accord, while the GS's hi-tech gadgets will doubtless make their way into Toyotas.
But which of these two cars is the real vision of future motoring? It has to be the hybrid Lexus. The GS shows how emissions can be cut in a realistic way, particularly in town. It operates smoothly and unobtrusively with very few drawbacks. Thanks to its driver-focused gadgetry, the Honda isn't far behind, but the LKAS system needs to be refined further before it can be fully trustworthy.
We've come a long way since the Cadillac DeVille nearly half a century ago. Just imagine the advances that are set to take place over the next 50 years!