Compact SUVs
Does Nissan's all-new X-Trail have what it takes to topple our favourite model, the Land Rover Freelander 2?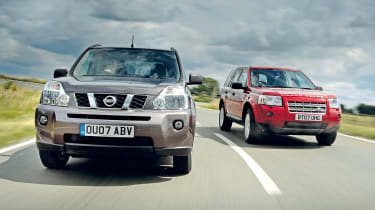 Want to talk 4x4s? Then you can't go far without mentioning Nissan. Its range extends from the Qashqai hatch to the hardcore Patrol, and all-wheel-drive cars make up 27 per cent of the brand's sales. But no model is more vital than the X-Trail; Nissan has sold 50,000 in the UK since the 2001 launch. A new car has arrived, and the firm says it has improved it without changing its winning formula. So can the X-Trail hold its ground in the compact 4x4 sector? Land Rover's Freelander is our current favourite, with its strong refinement and off-road ability. We've opted for the costly flagship diesel to get a similar spec to the mid-range X-Trail in this test. But which is better?
Verdict
It's a measure of how much the compact SUV segment has changed that these models are now virtually in different sectors. While the entry-level Freelander S is cheap enough to undercut the X-Trail, our range-topping HSE is nearly £10,000 more.
No doubt about it, the Land Rover is now a premium model, and has the refinement and quality to match its big brother, the Discovery. So, in this respect it stands apart from the Nissan.
However, the Freelander's high load lip, small-capacity boot and limited practicality mean that for many family buyers, the X-Trail will be the better bet. While it doesn't offer the badge appeal of the Land Rover, it improves on the old model's key selling points: it is well built, car-like to drive, large inside and temptingly priced.
So picking a winner in this test comes down to what you want from your compact SUV: the Freelander is the more desirable, comfortable and refined; the X-Trail is the better family hauler.
Ultimately, the Land Rover does just enough to take victory – it moved the game on at its launch, and remains an impressively well rounded performer.