Ford Focus vs Honda Civic
Ford's new Focus is here – and desperate to reclaim its Position at the top of the compact family car class. In this first head-to-head test, we see if it can topple our current class champion, the Honda Civic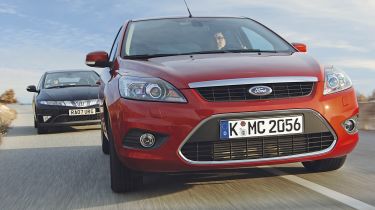 This has undoubtedly been the year of the Ford Mondeo – but now it's the turn of the new Focus to muscle in on the limelight.
On sale from the beginning of next year, Ford has sharpened up the looks and revised the interior as it aims to propel its family hatch to the top of the class. The original model redefined the market when it replaced the Escort in 1998. The sharp styling was a radical departure for the firm and an instant hit, while excellent dynamics made it the class benchmark for driver appeal. Six years later, and the second-generation model was launched, but while it added refinement and improved quality to the recipe, bold styling seemed to take a back seat.
That didn't prevent it from repeating its predecessor's success, and it was named our Car of the Year in 2005. But much has changed in two years, and it's the Honda Civic that currently wears our compact family car crown.
It's distinctively styled, spacious, cheap to run and entertaining to drive, and is a firm Auto Express favourite. Not to be outdone, Ford claims it has made some significant improvements to the Focus. But the big question is, can the facelifted version fight back and prove even more practical, better built and desirable than the Japanese hatch?