Aveo vs Swift
As the cost of living rises, we are all trying to make our money go further. Chevrolet is targeting buyers who prioritise value with its new Aveo. So, is it a better bargain buy than Suzuki's swift?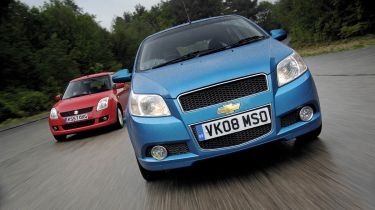 Choosing a small car no longer means you have to downsize comfort, refinement, desirability… or even prices. Today's superminis have grown up, and in many cases so have their costs.
But while the premier league of cutting-edge small hatchbacks fight it out over the £10,000 mark, there are still plenty of new models available for less. That's where General Motors can use the breadth of its motoring stable to offer a cheaper alternative to the Vauxhall Corsa.
Since it took over from Daewoo in 2004, Chevrolet has become established as a manufacturer of top-value budget models. The trouble is, it's struggled to shrug off the perception that its cars are low-rent, low-quality and uninspiring.
Having already invested heavily in TV advertising, the firm is beginning to introduce fresh models, too. The new Captiva SUV has been a move in the right direction, and now it's time to see what the replacement for the ageing Kalos has to offer. Step forward the Aveo.
Bigger than its predecessor, it will initially be launched as five-door, with a three-door version following soon after. There's a choice of two new engines – an 83bhp 1.2-litre or a 99bhp 1.4 – both of which are cleaner and more efficient than the units they replace. But key to attracting buyers are the generous levels of standard equipment and low prices.
The big question is, does the Aveo represent good value for money? To find out, we're pitching it against one of the best low-cost hatchbacks around: the Suzuki Swift. It's a cheap choice, but is a model we rate very highly – and will provide the Chevrolet with a stiff challenge.
Verdict
Bosses at Chevrolet have high hopes for their new supermini – but on this evidence there's still a long way to go. With its roots in a model that was long overdue a replacement, the Aveo already feels dated. And although the cabin is better than before, it falls short in terms of design and finish.
The car isn't a giant leap forward when it comes to styling, either: it looks similar to its predecessor. While the Aveo is well equipped and keenly priced, that's not enough to make it a good buy.
So it doesn't put up much of a challenge to the Suzuki Swift in this test. The Japanese car is fast becoming a benchmark for how to produce a good-looking, well built and fun supermini at a low price.
From the exterior styling to the interior quality and engine, there's nothing to make you feel you're in a budget model. Excellent visibility makes it a breeze to drive around town, and the peppy 1.5-litre engine and slick gearshift add to the appeal on the open road.
It's an easy win for the Swift, which remains one of our favourite superminis. In contrast, the Aveo is disappointing – we can only hope for much better from future Chevys.