Peugeot 207 CC vs rivals
Should you buy a soft-top or hard-top convertible? We name our favourite choices across four classes to come up with the answer.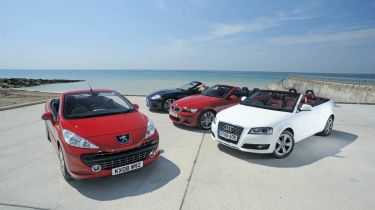 Summer has only just begun, but us Brits are already feeling the drop-top itch! And when it comes to exposing ourselves to the elements, there's never been more choice.
Open-air motoring is within reach of most budgets, in cars ranging from £10,000 to £100,000 and more. Two or four-seaters, diesel or petrol variants – there's a model to suit all tastes. However, probably the biggest decision buyers face is whether to go for a fabric or metal folding roof.
To find out what type of drop-tops deserve their place in the sun, we've lined up four of the latest, greatest and biggest-selling choices from four different sectors of the market. The variations in price and performance mean it wouldn't be fair to compare them against one another, so we rate them individually instead.
With the sun shining, we take to the roads of the south coast in this summer's big hits to prove why we think these cars represent the best in open-air motoring.
Verdict
So, should modern convertibles have a folding metal roof or a fabric hood? Driving two diverse examples of each design has proved there's no easy answer.
The major benefits of a soft-top are that it needs less complex packaging and is lighter. With ever-improving construction methods and materials, the latest generation of fabric-roofed cars don't trail hard-tops by much in terms of security and refinement, either.
Some makers shy away from solid folding hoods because of the compromises involved – as illustrated by the 207 CC. Its two-part roof results in a lumpy rear deck and long A-pillars, affecting the whole design.
However, BMW's excellent 3-Series convertible proves that – given a big enough development budget – for some cars, a hard-top is the better solution. The 330d's excellent three-part roof leaves a beautiful, flat rear deck and stylish short A-pillars. It takes up more boot space than a fabric cover, but that's the only drawback.
So what's the ultimate set-up? In the majority of cases, a traditional fabric lid is the best solution. All but the largest models benefit from having canvas hoods – and even look more like cabrios with the hood up, which appeals to many buyers. Yet regardless of roof type, you should choose the car with the best blend of refinement, practicality and value in each class.