Ford Fiesta vs Vauxhall Corsa
It's judgement day for the Fiesta. Can it beat Vauxhall's Corsa? find out in our first test.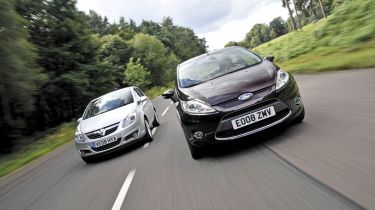 Head to head: Key points
Ford Fiesta Current downsizing trends are seeing ever more superminis being used as family cars – and that makes rear space crucial. While the Corsa has always been popular due to its large cabin, the Fiesta matches it for room despite the fact that it's slightly smaller on the outside.
The Vauxhall's rounded roofline provides slightly more headroom, but children will be equally happy in the more stylish Ford. Opt for the Fiesta in Titanium trim and you get plenty of big-car features, too, including cruise control, power folding mirrors and a nifty Quickclear windscreen. A traditional auxiliary input socket is fitted, as it is on the Corsa, but a USB port is an option – packaged with Bluetooth – at £150.
Fiesta's ride and handling are excellent. And in Titanium trim, as tested here, there are plenty of gadgets – although iPod connectivity is extra.
Vauxhall Corsa The Corsa's split-level boot floor is a wonderfully simple but effective device. It provides a totally flat load area when the seats are folded, but you can remove it altogether to maximise luggage capacity. The false floor also hides a handy storage area beneath for valuables.
When it comes to options, stability control costs extra on both of these cars. Given their generous kit and popularity, this is disappointing – surely the feature should be fitted as standard on such big-sellers? Another cause for complaint is the price of metallic paint. In each case it adds £375 to the cost, and as these models are so small that seems unreasonable – especially considering the limited number of solid shades available.
Handy split-level boot floor adds to the Corsa's versatility and its practical appeal. Metallic paint is an expensive £375 optional extra.
Verdict
It's crunch time! We've been itching to get our hands on the new Fiesta, but has it done enough to seize the supermini throne?
The Vauxhall is cheaper to buy and feels more solidly built on the inside. It's also very spacious for such a small car and feels as at home on the motorway as it does around town. It was a thoroughly deserving class champion in our annual New Car Honours.
The bad news for Vauxhall is that its reign has been cut short by the impressive Fiesta. Its cabin offers just as much space as the Corsa's, while its sleek looks and excellent road manners leave the Griffin model trailing. Ford's 1.6-litre TDCi is also incredibly economical and its low emissions trump the Corsa. Lower trim level models will no doubt provide better value for money than this version of the Fiesta, but on this evidence we have a new class-leader.