911 PDK vs Aston Vantage Sportshift
Porsche's new 911 PDK goes head-to-head with the Aston Vantage Sportshift in a battle of the hi-tech gearboxes.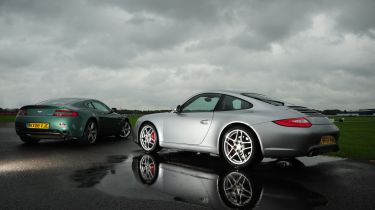 They say racing improves the breed – but car buyers have to be patient to feel any benefits of motorsport programmes. Just look at Porsche. Even though the German supercar company first developed a twin-clutch gearbox for its competition entries back in the Eighties, 0the technology has only now filtered down to the legendary 911.
The clever new PDK set-up is billed as an alternative to Porsche's excellent manual gearbox, but it effectively replaces the old Tiptronic automatic. Few cars deliver the driving thrills of a 911 – so does this transmission get the thumbs-up?
To find out, we've put the recently revised 911 Carrera S – complete with direct fuel injection and improvements to the cabin – up against some talented opposition from much closer to home. The gorgeous Aston Martin V8 Vantage needs no introduction. It delivers a blend of raw speed and stunning looks to rival any ultra-high-performance model in the world – and it's now available with the latest generation of the company's automated manual transmission.
The single-clutch system is called Sportshift, and it promises to provide the Vantage with a sportier driving experience than the conventional manual model – but which of these race-inspired cars will take the chequered flag first?
Verdict
Both these cars are more enjoyable to drive and better value with traditional manual boxes. Still, irrespective of which transmission you specified, the result would be the same.
The stunning Aston Martin's simple paddle-operated unit is easy to use, but the shift quality lets it down. You get none of the drama on downchanges we've come to expect from single-clutch automated manuals, while the upshifts are simply not fast or smooth enough.
On the road, in traffic or at the track, Porsche's PDK set-up is a better option. We have reservations about its counter-intuitive controls and the system kicks down far too easily, but otherwise the transmission is impressive – and the model wins this test.
The Carrera S is the best car in the 911 line-up – just make sure you try the manual model before you tick the box marked 'PDK'.